When winter and the cold weather rolls around, it can be tempting to leave the bike in the shed. If you persevere, winter riding can be some of the best cycling you can do - the clear crisp mornings will always surprise you with a stunning sunrise or some unexpected wildlife. Once you are out there, you will love it. But of course, if you would prefer to stay indoors and wait out the bad weather, then you could always have a look at turbo trainers.
Winter cycling can be so enjoyable, whether you are dressed for the weather and head outside on a group ride or you have a turbo trainer set up to stay out of the winter weather. We have put together this handy guide to cycling in winter to explore some of the main topics, such as: the best clothes to wear, the extra maintenance required on your bike, general safety tips and the benefits of a turbo trainer if you prefer to stay indoors.
Contents and quick links
---
---
One of the most important aspects of winter cycling is to stay warm and comfortable in the wet weather or when the temperature approaches or gets below zero. If you keep toasty in the poor weather, there is no reason you can't enjoy winter riding. We will have a look at some of the common clothing choices, including some handy tips as well as a few good options of each clothing type.
We have a blog on how to dress for cycling in the cold
Contents and Quick Links
Usually the garment you will wear as your outer layer, a winter cycling jacket will keep your upper body warm and will keep the worst of the rain off of you if the heavens open. Many people are not aware that there is a great deal of technology in cycling clothing and with winter cycling jackets, the more you invest, the more windproof, waterproof and breathable these jackets are and the more comfortable you will be.
Breathability is a huge factor in these jackets as this prevents you being drenched in sweat after your ride. The more expensive jackets will generally also last a lot longer than the cheaper counterparts saving money and waste in the long run.
This is a jacket that won't break the bank but still has all the features you'd want from a trail or a commuter jacket: Fully waterproof, breathable taped construction, underarm zipped vents for effective ventilation, zipped chest and rear pockets for safe storage and a soft microfibre collar for comfort and warmth. High visibility also never hurts when the winter nights draw in with reflective strips. A great value outer layer.
Super lightweight, high performance packable weather protection. The GV500 is a perfect jacket to be used over multiple layers as it is incredibly waterproof and breathable and can be taken off and packed away if you find yourself overheating on your winter cycle. Nice and bright in the paprika colour way for you to be extra visible to other road users.
Warm, winter windproof protective softshell jacket, ideal for any type of riding. The first 'soft-shell' on our list which will repel light showers but will get wet in heavier downpours. People choose a soft-shell as they tend to be very breathable and will not make you overheat. Another jacket that can be worn on its own or can be worn over base layers.
Here's one for deep winter cycling - for when the temperature gets really low. Worn on it's own or over a base layer, this jacket will keep you warm even when it's miserable out.
A good base layer can be absolutely vital in winter cycling (or most other cycling for that matter) as they are incredible at wicking the sweat away from your body and the best ones will either keep you warm when it's cold or, amazingly, keep you cool when it heats up. You can view all our base layers here but we really feel that winter riding is can be drastically improved by investing in a good quality base layer.
The question of what to wear on your legs depends on the type of bike you have and personal preference. For example, if you ride an electric bike, you may just want to invest in a pair of waterproof trousers to wear over your regular clothing but if you commute or ride on cyclocross bikes or a road bike, you will likely want some big-tights or bib-longs with thermal qualities. If you are mountain biking, you may want to opt for a pair of bib tights under your regular shorts. There are so many options to keep you warm during winter, you will definitely find something to suit you.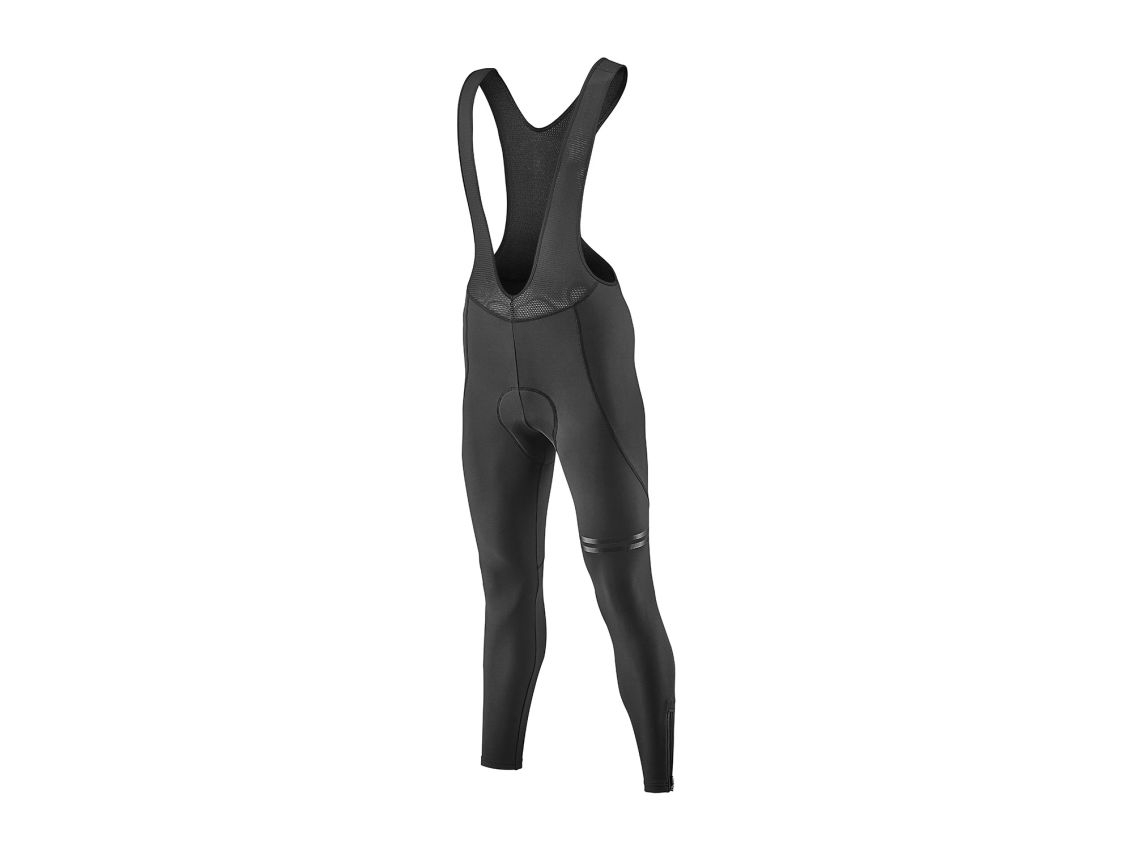 For everyday training or exercising, Podium offers great features in muscle support and heat management. For cold days in the saddle, the full length Podium Thermal Bib Tights are constructed using ThermTexturaT fleece fabric for heat retention and insulation.
Waterproof, durable and stretchy. These are designed for mountain bikers but could easily double as robust winter commuter trousers. Also available in a men's version.
For wearing over your regular clothes to keep your legs warm and dry, the Hump Spark are fully waterproof, getting you from A to B in comfort when the weather lets you down. Reflective exclamation points across the lower leg area gives great night time visibility to passing motorists. Available in mens and women's fit.
This is one for the longer distance road cycling or gravel cyclists. These full length bib tights provide exceptional warmth and an amazing pad that will keep you comfortable for mile after mile. Compressive material will keep your muscles happy on those long rides too.
This one probably goes without saying but we will cover it anyway. There is nothing worse than having cold hands on a ride and if you were to lose feeling in them it makes operating the brakes and gears harder to operate and could make you less safe on the bike. Also, if you have even tried to change a puncture with freezing cold hands, you would never leave your gloves at home ever again. Here are some of the best winter cycling gloves.
The Pro SL Primaloft is Endura's warmest waterproof glove. These premium hand warmers keep cyclists comfortable all winter long. These gloves perform down to sub-zero temperatures and keep your hands toasty and warm.
This Women's Strike glove is a low bulk, waterproof all-rounder with gel palm padding which doesn't compromise dexterity on or off the bike and not only do these keep your hands warm but they dilute the vibrations from road buzz with gel padding and silicon strips for enhanced grip of the handlebars. These are also available in a men's version.
This glove boasts incredible heat retention behind a breathable, weatherproof exterior. You will happily cycle through winter with these gloves as part of your winter arsenal.
Mother Nature has met her match with this low profile glove engineered to keep you going fast in cold, wet weather. Laminated insulated shell with waterproof breathable insert blocks out the water and keeps your hands dry while maintaining exceptional dexterity and control of your bike.
Another one that needs no introduction - keeping your feet warm in winter is as important as keeping your hands warm. Cold feet are just plain painful but there are a number of options to take care of your tootsies from a good pair of socks to some substantial winter boots with cleats (if you prefer).
One of the best buys in cycle-specific Merino Wool Socks, Endura BaaBaas are significantly thinner than wool socks of the Smart hiking variety. This makes BaaBaas all the better for slipping into narrow cycling shoes for wearing all year round.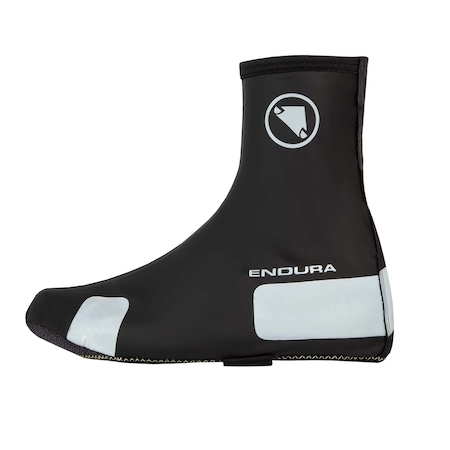 Overshoes can be a great option to keep the rain off your feet and to keep your feet warm and dry.
Unlike most overshoes, Endura's Urban Luminite is designed to fit a wide variety of footwear and the open sole design ensures walking with them on is not an issue. The waterproof upper construction and simple velcro closure ensure they meet the challenge of the winter urban commute.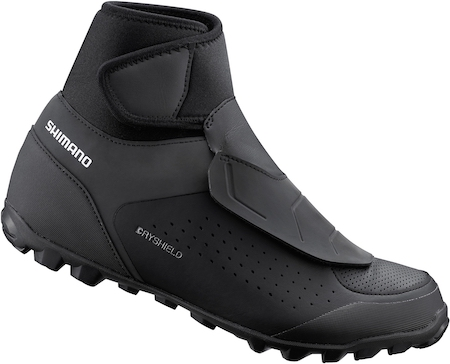 And on the extreme end of the spectrum comes the waterproof and warm cycling shoes for cycling in winter on roads and off. These are indestructible and for serious riders who get our in all weather conditions.
We hope you have enjoyed our section on clothing but there is much more to winter cycling than just what you wear. How you set up and maintain your bike is essential in keeping you happy and safe in winter. Talking of safety, being visible and seeing where you are going are vitally important.
---
---
Lights are an essential investment for winter cycling due to the early evenings and, let's be honest, it's usually pretty dark during the day too. That is why it is so important to get your lighting game sorted. If you cycle around town, you should look for the best front and rear light that will make you as visible to other road users as possible. We even recommend more than one set of lights placed on different places on your bike and your body as then, if one set of lights runs out of batteries, you will have back up lights. Please note: to conform to British cycling legislation, one front and one rear light MUST be attached to your bicycle.
If you are a mountain biker or a commuter cyclist who cycles along unlit roads and tracks - you will likely need more powerful lights (we recommend a minimum of 800 lumens for commuters and at least 1000 lumens for mountain bikers) in order to light up the road or trail so you can see where you are going. That is why choosing the right lights for your circumstances is incredibly important.
We have an ultimate light guide here
The Knog Blinder Pro is the perfect dark paths and roads light for road cyclists or gravel cycling as it offers a road specific beam to allow you to see where you are going on unlit streets and tracks.
For commuters and cyclists who want to be visible in towns and relatively well-lit areas. A very bright rear light and a front light that is capable of 400 lumens in case you are in a poorly lit area.
Bike set up
When cycling in winter, there are some changes you can make to your bike to make yourself safer and more comfortable whether this is adding extra accessories or simply adjusting your current set-up. We are going to list here all the different set-up changes you can make to make your bike winter ready. These include tyre choice, tyre set up, extra accessories and even the bike you ride.
Tyre Choice
Winter is the perfect storm of cycling - the roads and paths are usually wet or have leaves on them or at times there is ice about. Choosing the correct tyres is important as you can make yourself safer by fitting a wider tyre (if you have the space) for extra grip on slippier surfaces such as manhole covers and road markings. If you are thinking about changing tyres then a puncture resistant one is usually a good shout as there is more detritus on the roads in winter that can cause punctures.
See all bicycle tyres here
Tyre Set-up
One of the simplest changes you can make is to run your tyre pressure lower as this results in more contact area with the ground and, with that, more grip. Just be careful that you do not run the pressure too low that you will put yourself at risk of pinch flats.
The next level is to set up your bike tubeless as the benefits of this are twofold - one: you can run the tyres at a lower pressure and not have to worry about getting pinch flats and two: most punctures will seal themselves meaning no having to change tubes at the side of the road when it's cold.
Choice of bike
Winter cycling can play havoc with groupsets - especially chains and cassettes so why not do away with each? Choosing a bike that has internal gears and even a belt drive can vastly reduce the amount of maintenance required on the bike. The internal gear and belt setup is very popular amongst electric bikes and you can still find some non-electric bikes that come with these. Now we know not everyone has either the space or the funds for a dedicated winter bike but if you are buying a bike for year round cycling, these options would be worth considering.
Many riders will use an old bike for their winter bike to save their good bike for when the roads are not covered in salt.
Extra Accessories
As soon as the gritters come out to treat the roads for winter, you should really think about fitting a pair of mudguards as these will keep the worst of the salt water off of your bike and, more importantly, keep the salt away from your precious groupset - we have literally seen a chain rust overnight after wet winter riding which takes us nicely on to maintenance...
We have an in-depth blog on mudguards
We all know bike maintenance is important but when the winter weather hits, it becomes vital to keep your bike in tip top condition. Particular attention should be paid to your chain and cassette as salt will rust a chain and cassette quicker than you would think possible. If you are cycling every day - it would be worth cleaning and lubricating every 2 to 3 days.
If you decide to cycle without mudguards, it is important to check your headset bearings as they are in a prime spot for the road spray to get in under your headset and rust the bearings (if you are being extra vigilant, it would be worth checking that your bearings are well greased before winter rolls about).
Another handy tip is to keep an eye on your brake pads as these will generally wear out quicker in low temperatures and the wet.
See our blog on how to winter-proof your bike
So, having discussed everything you need to know about venturing outside in the winter months, it is now time to turn our attention indoors and to turbo trainers.
Turbo trainers are an excellent way to keep your training going in the colder months without the extra investment and maintenance of your bike (although you have to be careful that your sweat doesn't drip onto your bike and rust the vital parts).
Trainers come in various different price points with a lot of different features depending on your budget or training requirements. At the lower end of the scale are trainers that you sit your bike on and the rear wheel contacts either a magnetic or fluid drum whose resistance you can adjust to make it easier or harder to cycle. Basic but they do the job.
See our blog on Reasons to buy a cycling turbo trainer
If you would like a more immersive experience and take advantage of the many pieces of software that can simulate real rides then a smart trainer is probably for you - you mount your bike on a cassette on the trainer and the measures power, cadence etc and you can connect it to your phone, laptop or tablet and the software can simulate rides while adjusting the resistance to mark hills and downhills (and some of them even simulate gravel or cobblestones). These pieces of software can also give you tailored training programmes so you can work on specific aspects of your cycling.
The Elite Novo Force is a magnetic flywheel trainer that has 5 levels of resistance for your cycling training. Simply mount your bike on and off you go.

The Tacx Flux is a smart trainer that can simulate up to 16% gradients and up to 2000 Watts of power and can be connected to mobile, laptop or tablet to give a fully immersive cycling experience. Being able to cycle simulated rides helps massively with motivation as you can choose different courses at various different difficulty levels.
---