One of the biggest differences you can make to your cycling in terms of efficiency and/or comfort is which type of shoe you opt for. Different shoe and pedal combinations will give different benefits depending on the discipline you ride and your personal preference of what you want from your shoes and pedals. Here, we will take a look at all the different styles of cycling shoes from flat to clipless and will look at the pedals that go along with these to provide the best set up for you. Here, we will look at every combination of shoes and pedal combinations that are possible and detail why that particular setup might be right for you. This is your ultimate guide to all things cycling shoes, pedals and hints and tips.
In this article we will discuss:-
Wearing your own shoes
A lot of new cyclists will wear their own shoes when cycling as it is the most convenient and cost-effective way to start cycling. This is, of course, fine as you can wear whatever comfortable shoe you have at home and you do not have to change these when you arrive at work, the shops, cafes etc. The only issue we would advise watching out for is how stiff the sole of the shoe is - if it is a trainer then it will likely have a very flexible sole which will put extra strain on the bridge of your foot when putting power through the pedals. A stiffer sole will spread the power through the entire foot when pedalling and will take pressure away from the arch and ball of the foot.
How effective your own shoes are will also depend on what type of pedals you use - if you use basic plastic pedals, these can be rather slippery if it gets wet but will be fine for getting around town. If you decide to opt for mountain bike pedals with pins - these will add a significant amount of grip in all conditions but will eat away at non-specific cycling shoes such as trainers.
Wearing your own shoes can be a simple and cost effective way to start out on your bike but because of some of the issues mentioned above, our advice is usually to invest in a pair of cycling specific shoes.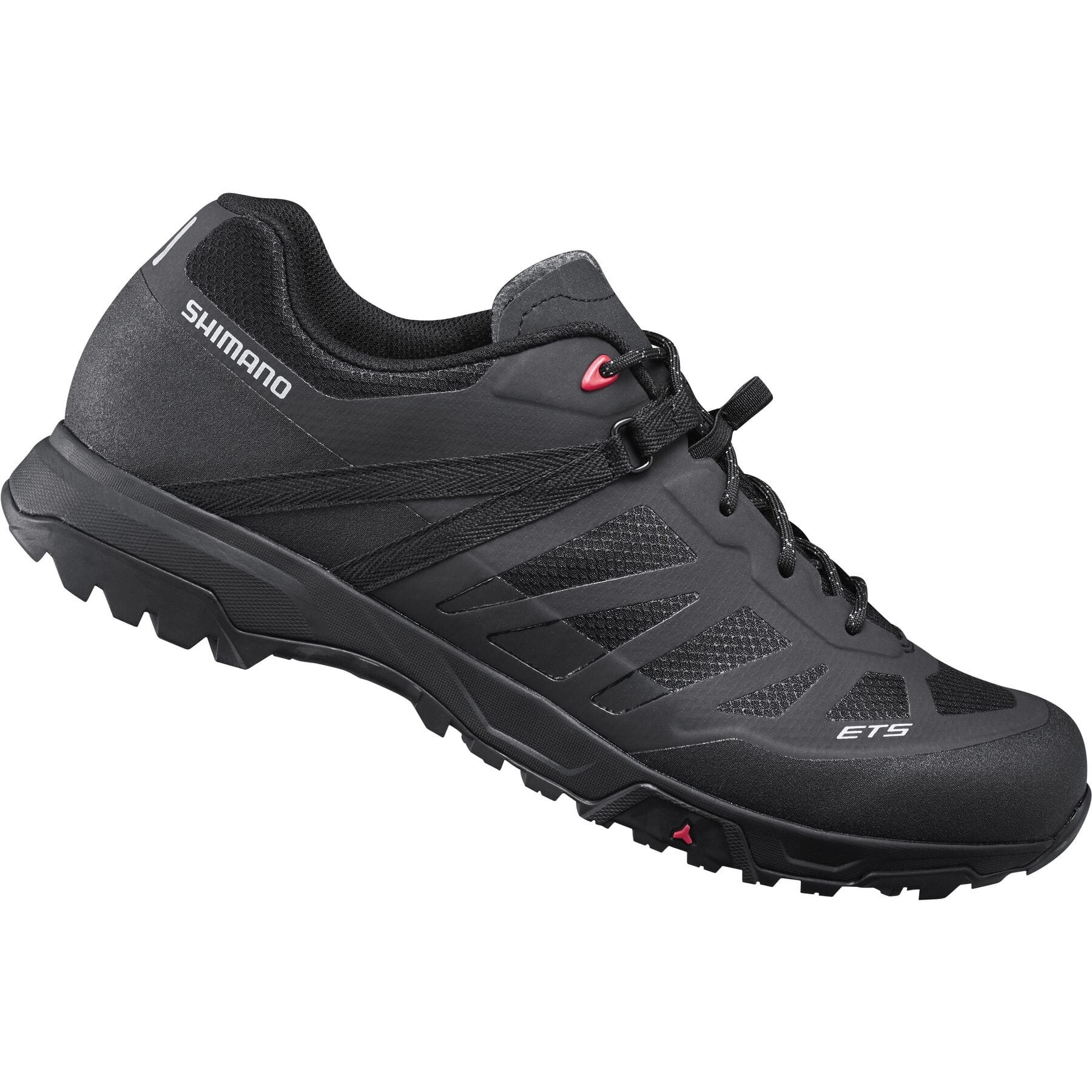 A great option for electric bike riders and for those who want the looks of a casual shoe but the durability and efficiency of specific flat pedal shoes, the ET5 E-touring shoes are perfect for electric bikes and leisure rides. This could be your day-to-day shoe but is ready to take on the bike and offer supreme comfort and efficient pedalling. Improved traction to stop your feet slipping or moving about on the pedals. This shoe is the perfect option for those who do not want to go for a full mountain bike shoe but still want efficient power transfer on the bike.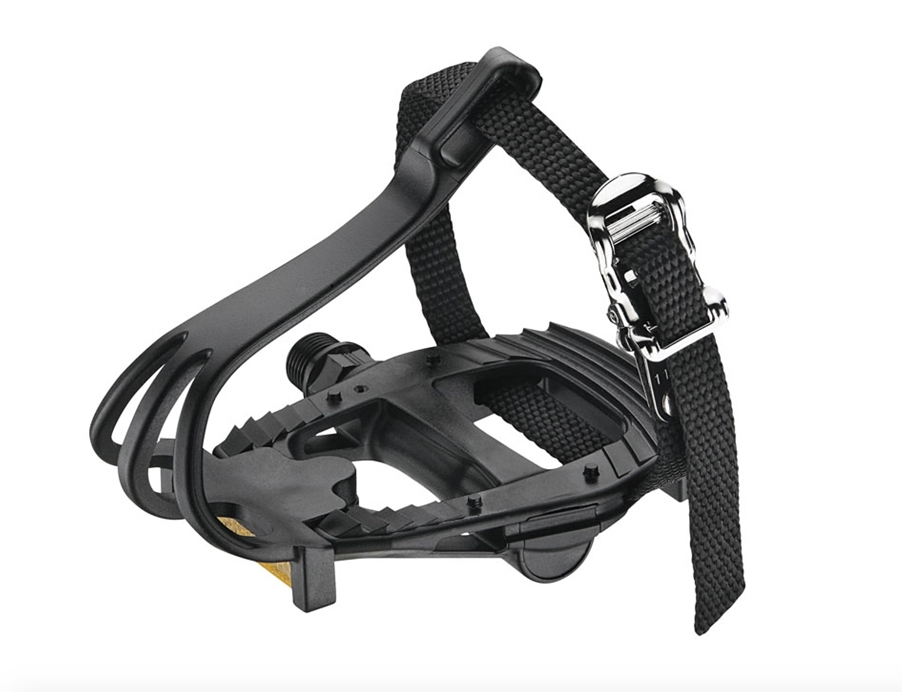 For those opting to wear either their own shoes or flat cycling shoes, there is the option of cages on your pedals. Some cyclists swear by these as they keep your foot in the same position on the pedal. Although the downside of these is you need to have them really tight to get any efficiency benefit and this, inevitably, makes them more difficult to get out of. So, our advice usually is - if you are looking for something to keep your feet in the same position on the pedal then these are for you but if you are looking for efficiency then you may be better looking for the clip-ins below.
---
---
Mountain Bike Flat pedal shoes
There are some big differences between regular trainers and specific mountain bike shoes and these can make your cycling a lot more comfortable. The first big difference is that they have a stiffer sole to take a lot of pressure off of the ball and the arch of the foot as the force is spread across the whole foot rather than just the ball of the foot. The key here is to get the balance right of the stiffness as the stiffer it is, the better it is for cycling but the harder it is to walk in. If you are using these shoes to cycle and do not need to walk much in them, then a stiffer sole will work better but if you need them as a day-to-day shoe then the balance has to be right in terms of stiffness. These shoes will work well with most flat pedals but what they do not offer is grip if a basic flat pedal gets wet. If you want extra grip, then a different set of pedals are required.
A basic pedal will not cut it for most mountain bikers as you require extreme grip in sometimes muddy and wet conditions. In these circumstances, a robust flat pedal shoe is required but this should be paired up with a mountain bike pedal with pins. The pins are designed to grip to the underside of the mountain bike shoes so your foot remains planted and will not slide about while you are riding. This also leads on to the second reason why specific flat pedal shoes differ from others - a reinforced and grippy sole. If the pedal you use has pins then it is strongly recommended that you invest in mountain bike shoes as these are robust enough to withstand the pins and give exceptional grip even when throwing your bike around on the trails.
And before looking at some specific examples of mountain bike shoes, one of our most frequently asked questions is; What do I get when I spend more money? Well, when you spend more you will generally get a stiffer sole, more breathability and more waterproofing. Other factors will increase too such as the robustness of the sole and the compound used to increase grip.
Mountain Bike Shoes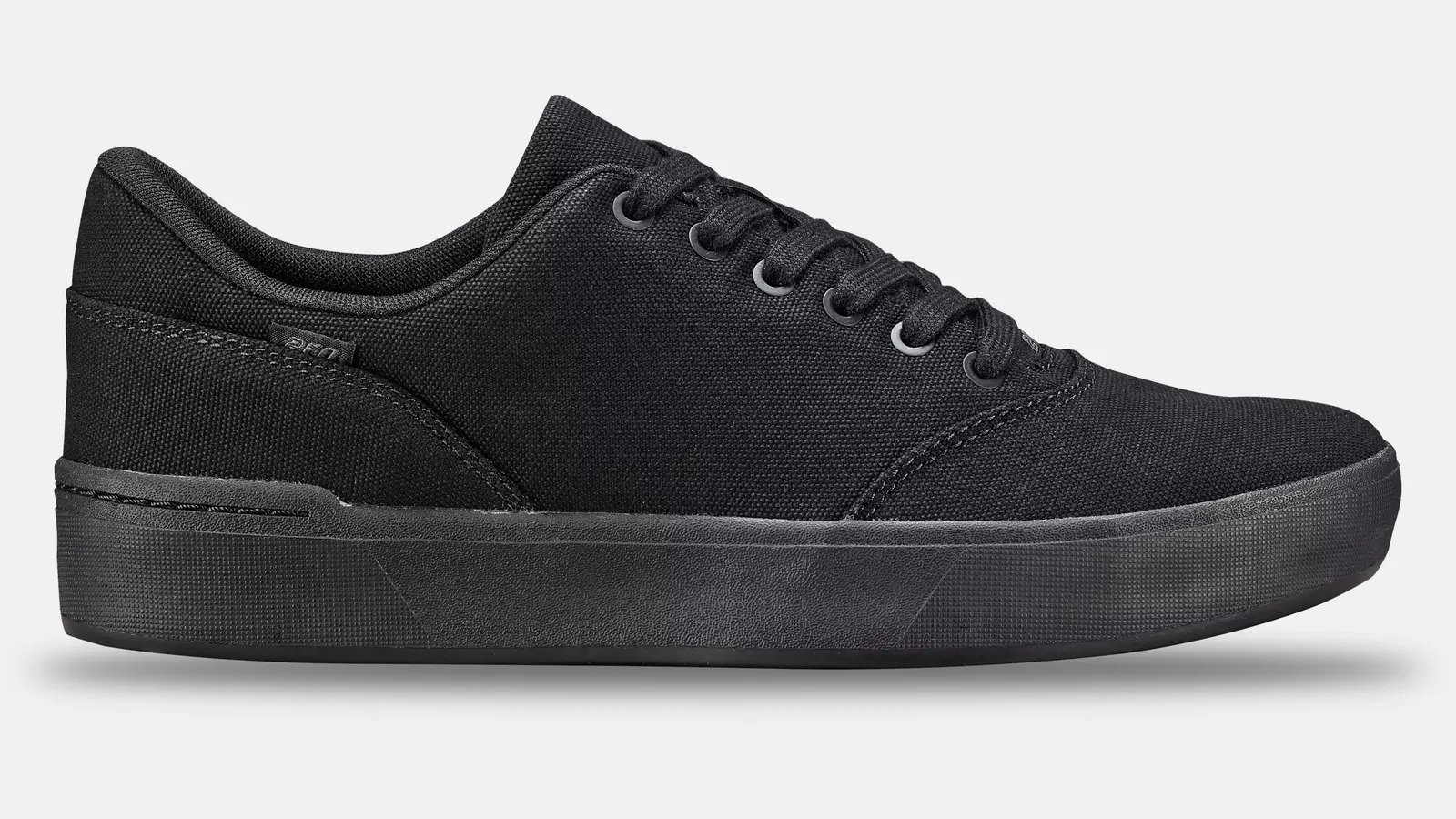 A great example of a robust and affordable flat pedal shoe that is made for equal parts cycling and walking as the sole is stiff enough for cycling comfort but flexible enough to walk around in. Comfort is the name of the game here with a foam core midsole for vibration damping and cushioning when riding on the rough stuff.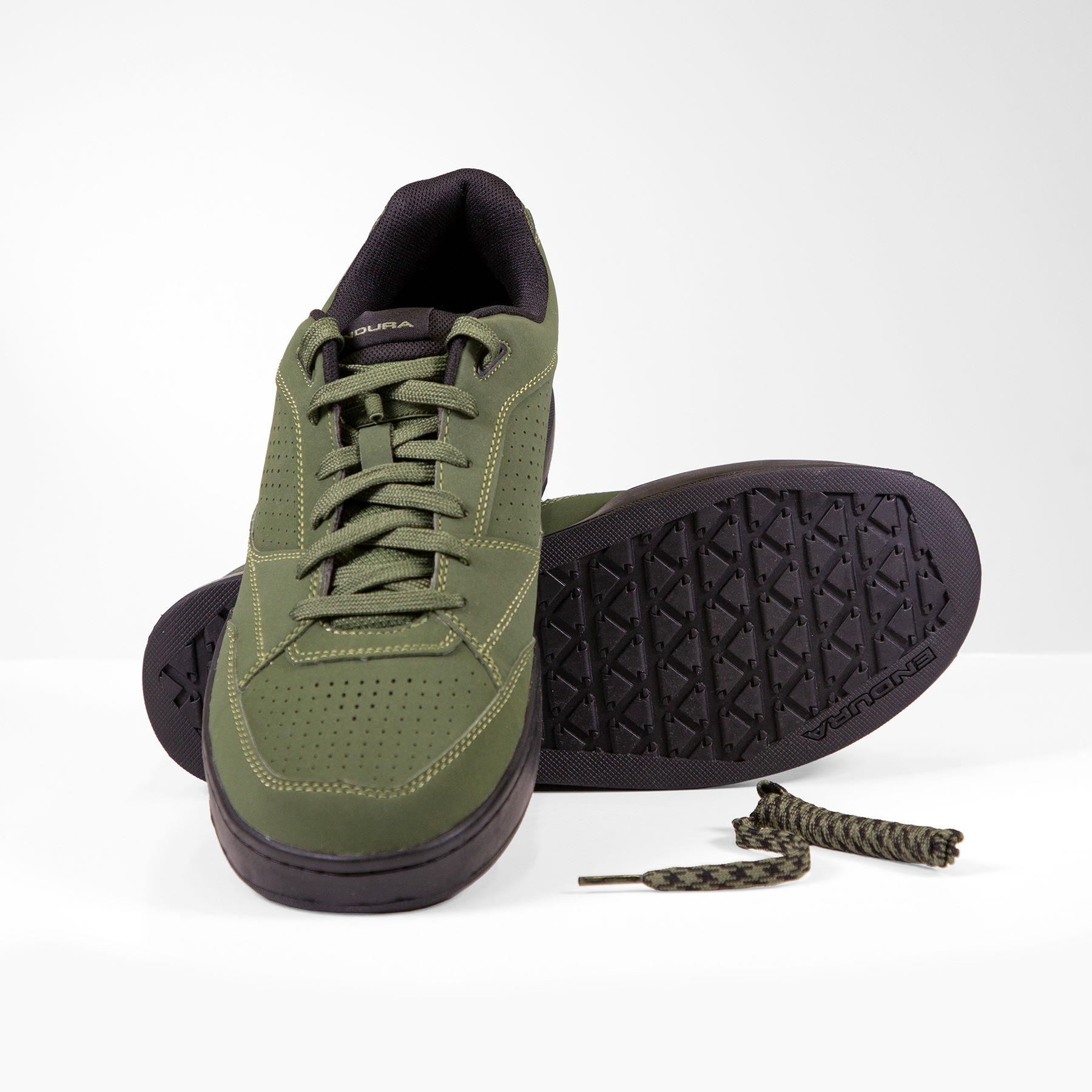 Multi-use versatility is at the core of this shoe. It can be comfortably worn as a casual shoe around town, in the workshop or at the cafe but is always ready for you to jump on your bike and hit the pedals.The flex of the sole has been specifically engineered to balance all day comfort with on bike performance and the StickyFoot Grip rubber compound of the sole ensures that you remain connected to your pedals no matter the terrain. Don't be fooled by the casual looks, this shoe has been engineered to ride and is ready to take on whatever type of cycling you need it to.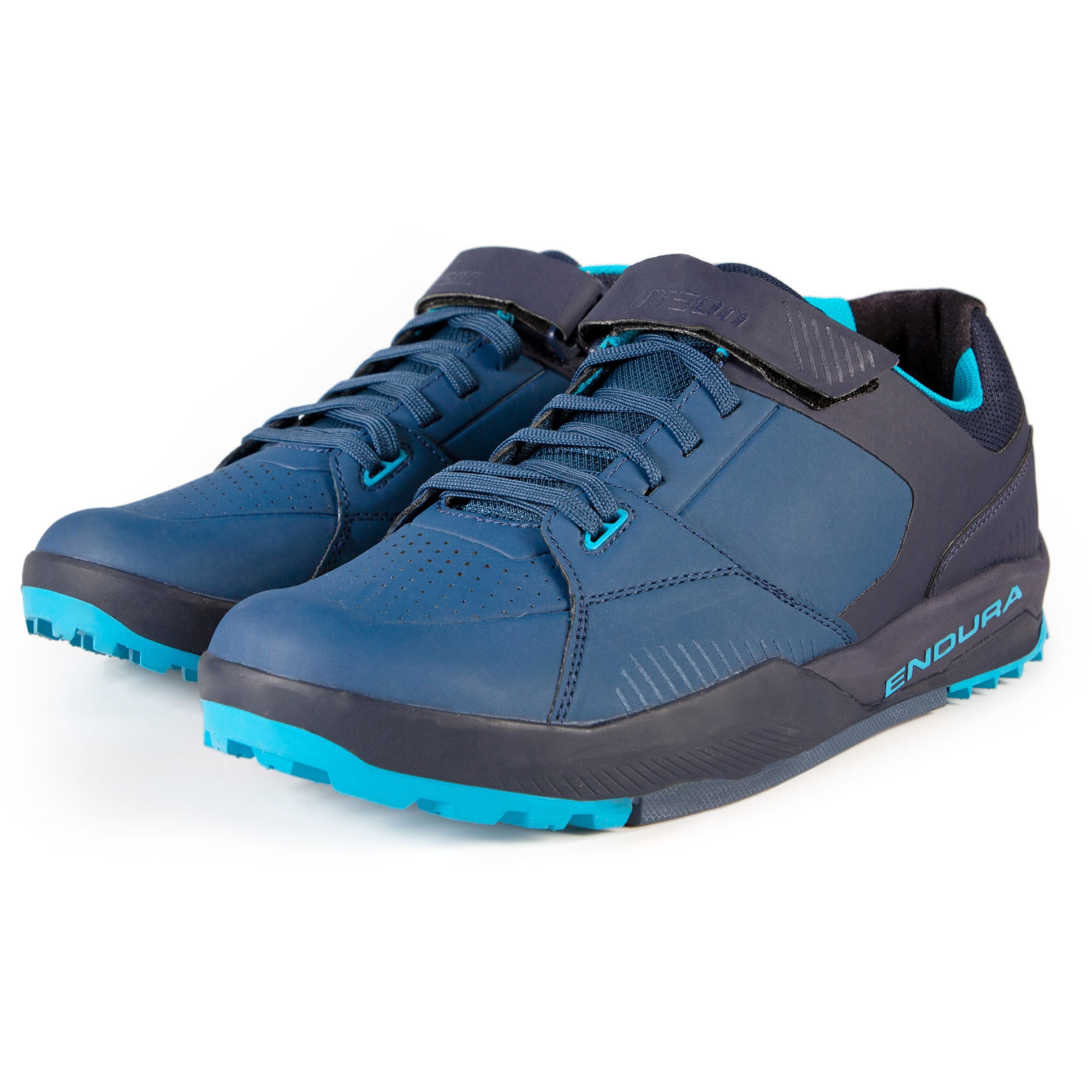 The MT500 Burner Flat Shoe is the tech flat pedal mountain bike shoe riders have been waiting for. They feature Ergonomistry™ (EGM) Tech, developed in partnership with renowned physiotherapist and ergonomist Phil Burt. Gone are the days when the highest performing materials and technologies are reserved for clipless footwear. Designed to support the foot and handle abuse, reinforced toe and heel boxes provide additional protection and an EVA midsole adds shock absorption for when things get a little sketchy. The heel and toe are reinforced to protect from any flying trail debris such as sticks and rocks.
Again, these shoes offer an excellent balance between on bike efficiency, durability and comfort while still being comfortable and robust to walk in.
---
Mountain Bike Flat pedals
As mentioned above, these shoes are optimal when paired with a specific mountain bike pedal. For entry level pedals, you will likely have non-removable nylon pins on a nylon base that offer grip but are not quite as robust as when you spend more on a steel pedal with removable pins. On the higher end pedals, you will get better bearings and internals as well which translates as more robustness but also more efficient power transfer as there is less resistance when pedalling. Here are a few of the best options for mountain bike pedals.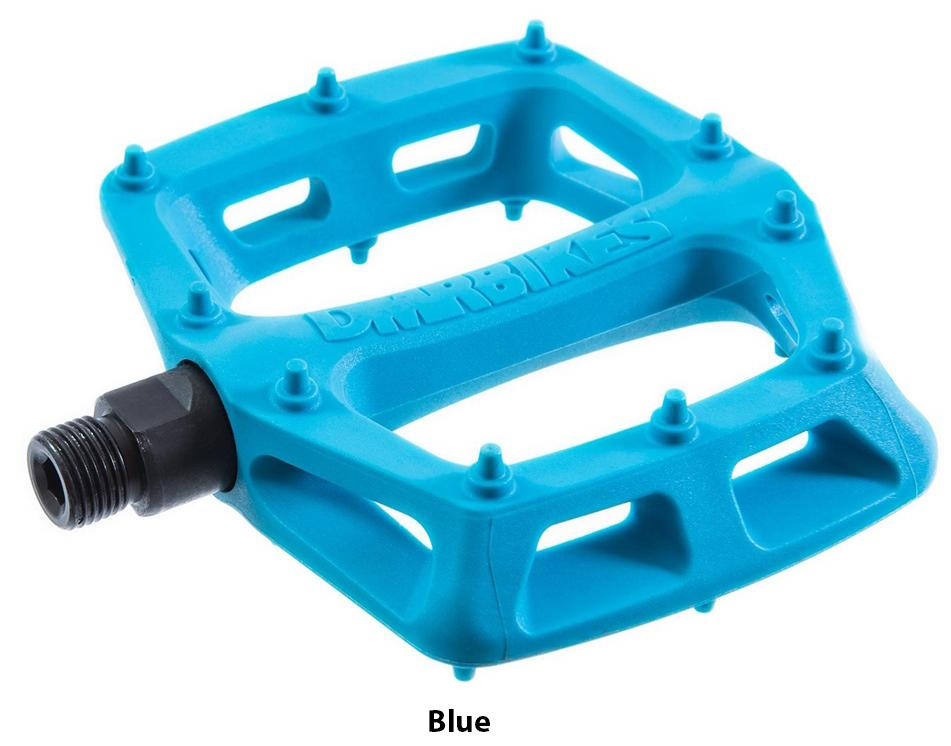 Starting with a relatively basic mountain bike pedal - the DMR V6 is a very inexpensive introduction to flat pedals. The pins and body are nylon so this pedal would be fine for relatively easy-going off road leisure riding where extra grip is desired. These pedals do come in a wide variety of colours so act as an accessory to add your own style to your mountain bike. These pedals would not necessarily be the recommendation for more demanding off-road riding such as trail riding or downhill. A much more robust pedal would be required for this.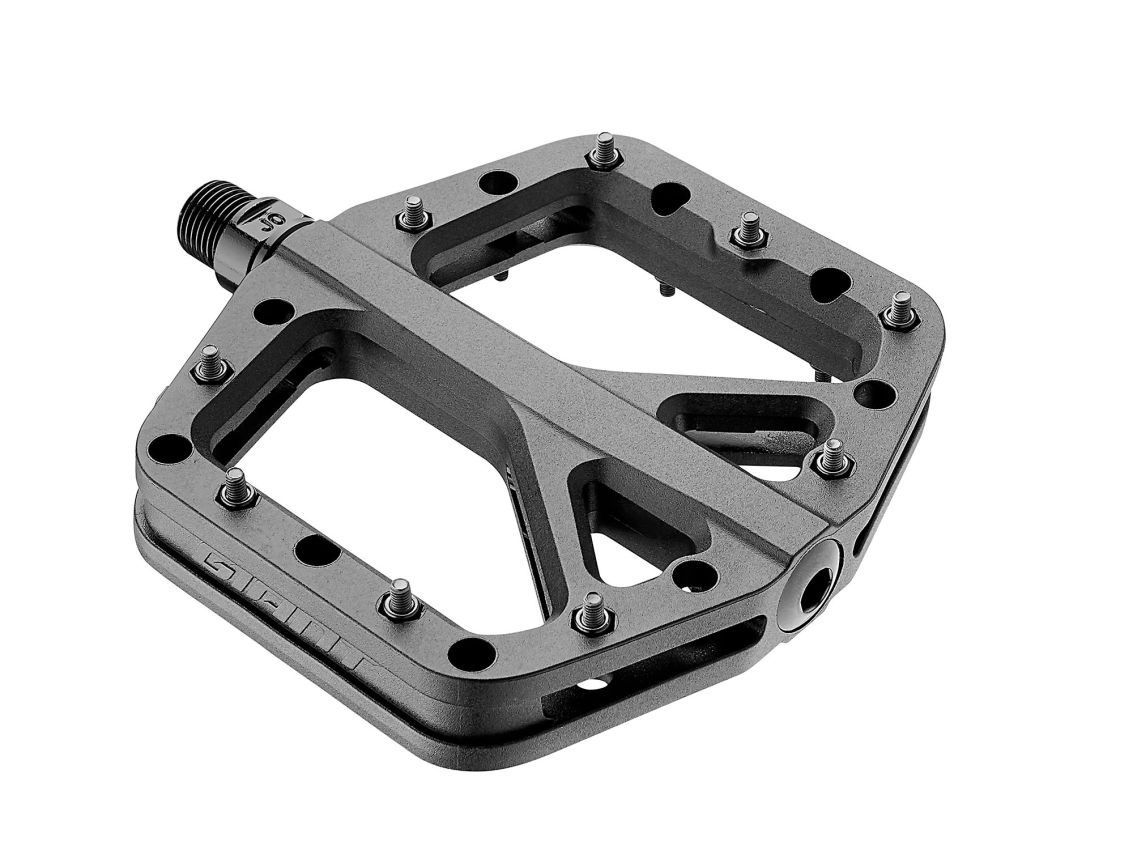 With a slim, lightweight nylon composite concave body, steel axle for extra robustness and 9 replaceable pins per side for secure foot engagement, the all-new Giant Pinner Elite pedal is made to last when paired with aggressive trail and enduro shoes. As you go up through the range, you will start to see technologies such as 'concave body' which increases support and feel of the pedal. The more you spend on a pedal, the more the material used is focused on being tough and robust.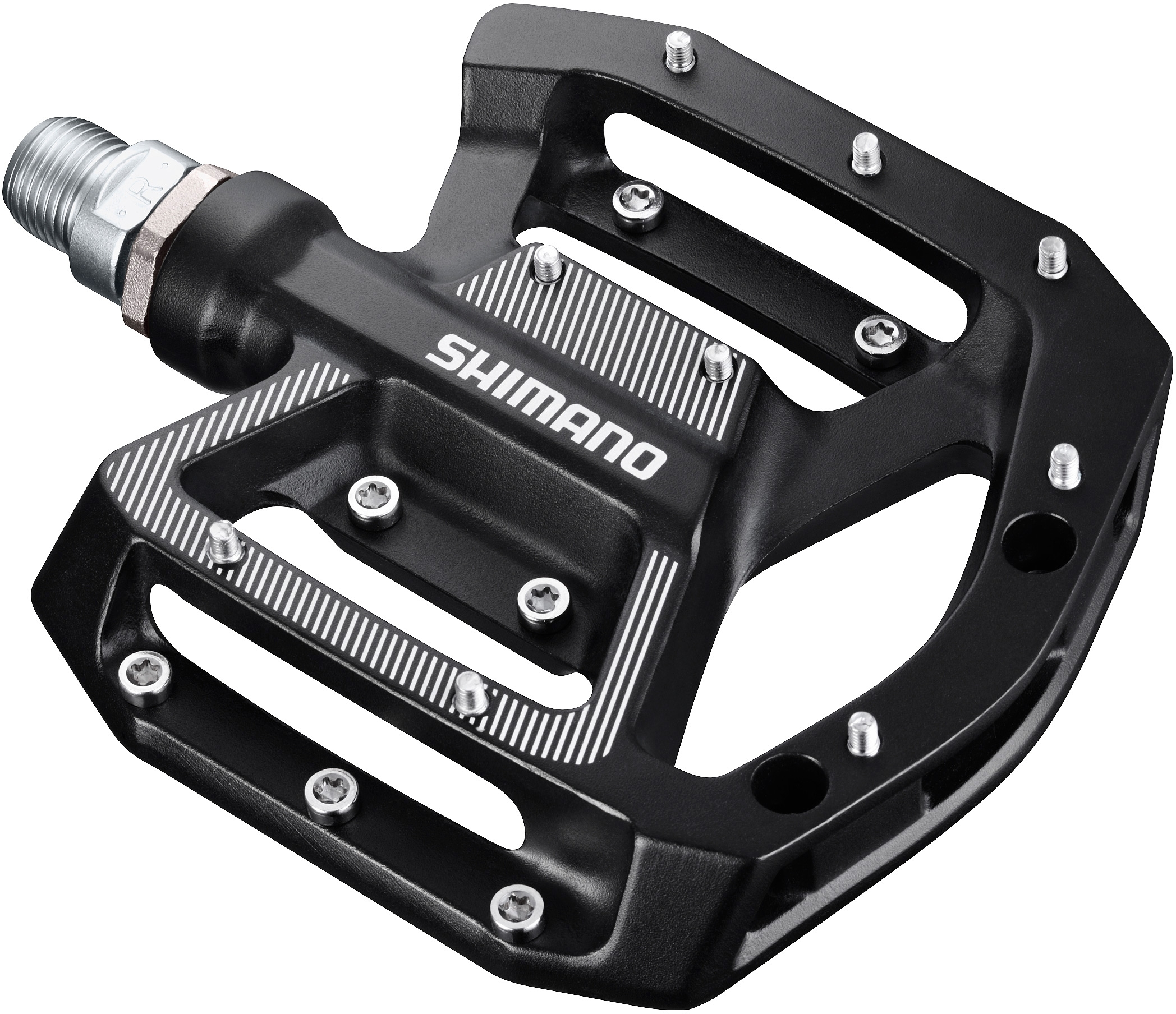 Another excellent flat mountain bike pedal that offers a wide profile for extra grip and efficiency with well thought out details such as pins that are screwed in from the rear and sealed bearings which results in less maintenance and hassle when replacing these parts. Shimano recommend these pedals for entry-level trail riding or all-mountain riding.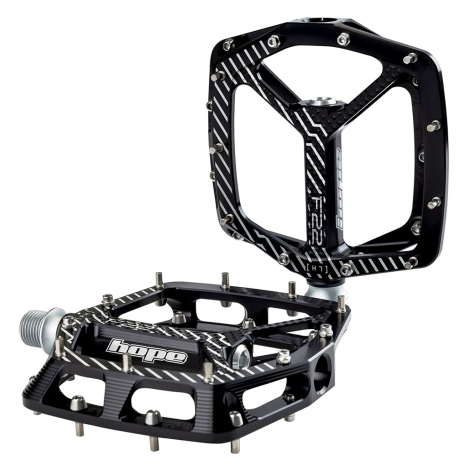 And now a pedal built to withstand the most technical and extreme of trails - the Hope F22 pedal is a super tough chromoly pedal with adjustable, replaceable pins. Featuring a large concave dome profile for stable foot support and a superior planted feel and an asymmetric and tapered shape for the right balance between foot stability & clearance on tight trails and in ruts. The pins on this pedal are adjustable with use of a spacer on the reverse loading pins and these pedals are fully serviceable and re-buildable meaning you will enjoy these pedals for years. Tough, comfortable and repairable - an exceptional enduro, cross-country, trial pedal.
So, that's the mountain bike side of flat pedal shoes and pedals but what if you are in a situation where you would like to clip in sometimes but want to wear flat pedal shoes the other times. Is there an option to do both? Absolutely! This is where we take a look at hybrid flat/clipless shoes and the pedals required for this.
---
---
Hybrid flat/clipless shoes
A hybrid shoe will look quite similar to a mountain bike shoe from the side or the top. You will only usually see the difference when you look underneath the shoe. These shoes will be designed to give the same grip, comfort and stability as the mountain bike shoes when used with flat pedals but will add an SPD cleat recess for when you want to clip in. This means that you can potentially use flat pedals one day and clip-in if you are going for longer rides or need your feet to be attached another day. In order to swap between flat pedals and clip in without causing yourself too much of a hassle, there are pedals on the market that have a flat side and a clip-in side in order to facilitate this. We will talk about this further down but first, a quick interlude about SPD pedals and cleats and the benefits of clipping in.
SPD pedals
SPD shoes are sometimes referred to as mountain bike clipless pedals as the SPD cleat itself is sunk into the shoe for and is smaller than its Spd-sl equivalent. This is in order to give you the benefits of clipping in (more below) and being able to walk in your shoes when you are off the bike. As the cleats are not in contact with the ground like spd-sl cleats, it is much easier to walk in shoes with the Spd set-up.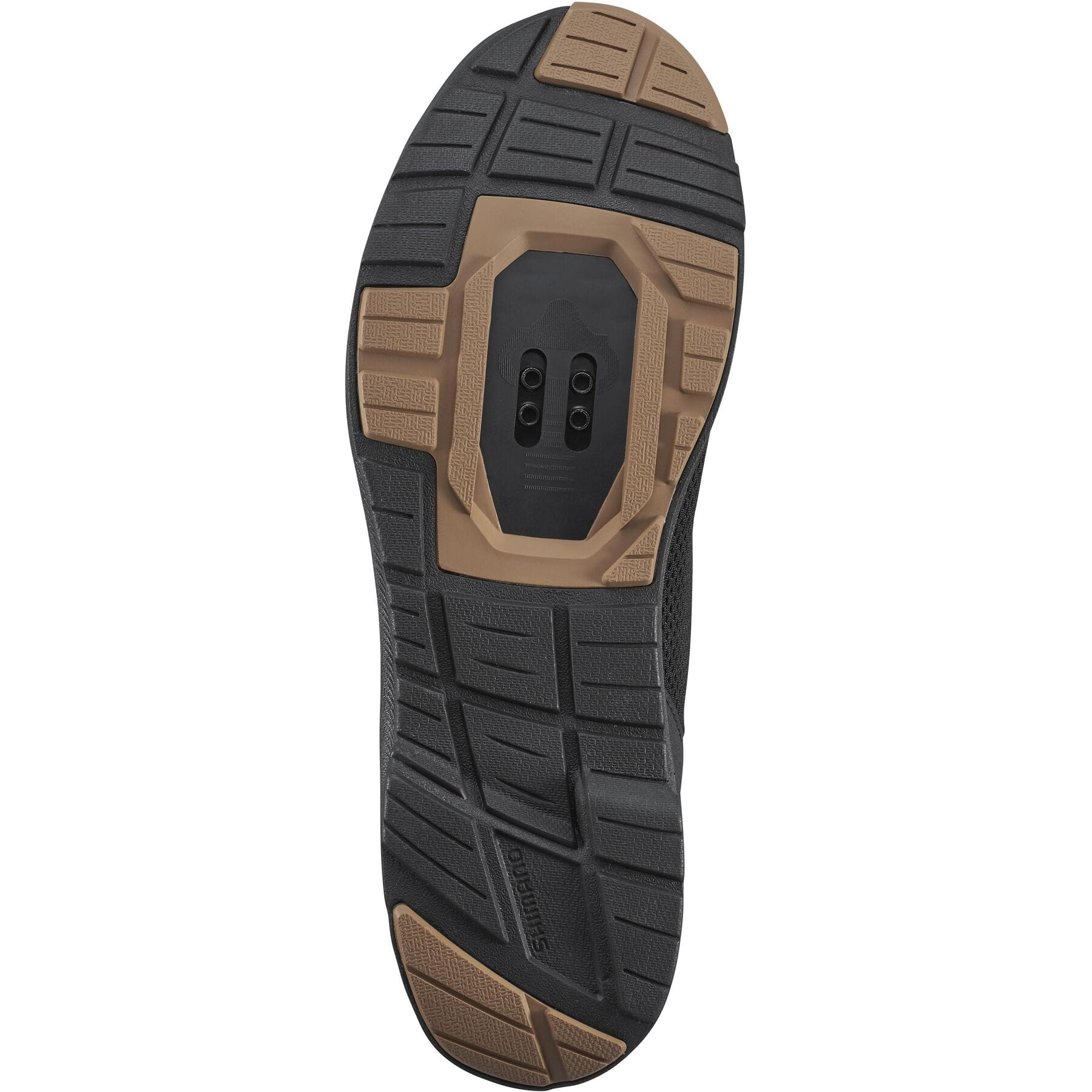 Each cleat system (e.g SPD, SPD-sl, Look, Speedplay) are only compatible with a specific pedal. The most common SPD cleat and pedal are below in the images.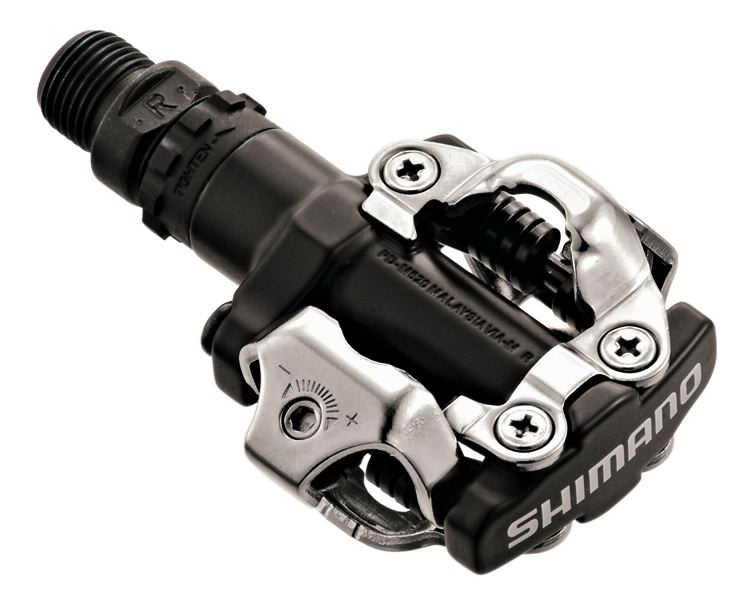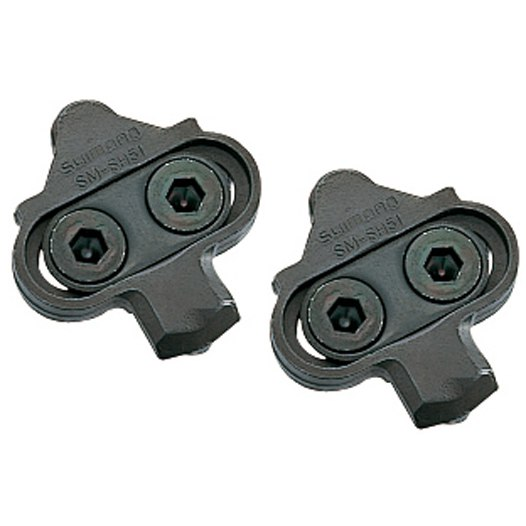 The benefits of clipping in
Before we go into the hybrid shoes, it is worth discussing the benefits of clipping in to your pedals. There are a few points to cover here. The first benefit is that you have more efficient power transfer when you are clipped in - this is due to the fact that you can put power down through more of the pedal stroke and some can even utilise the entire pedal stroke (souplesse anyone?). The next benefit is that you foot stays in the same spot on the pedal no matter the weather and this, in turn, can help your knees and feet and can keep pressure off key areas such as the knees, hips and feet. Knowing your foot is in the same position will keep you from getting issues such as hot-foot and will reduce pain in the arch and ball of the foot.
The only factor worth mentioning here is that if you are riding trail centres or demanding downhill routes, clipping in does ensure your feet are in the correct place but because you are effectively attached to the bike, it does make it harder for you to fall correctly if you do get in a bit of bother. But if you have the skills, bash on.
Ok, now back to the hybrid shoes...
Hybrid shoes
Here are a few examples of shoes that can either be used as flats or clip-ins. These shoes are characterised by a mostly flat and grippy sole but with a recessed hollow for a cleat to be fitted if required. Some of these shoes even come with a cover over the cleat to keep muck out of the threads until such time as you fit cleats.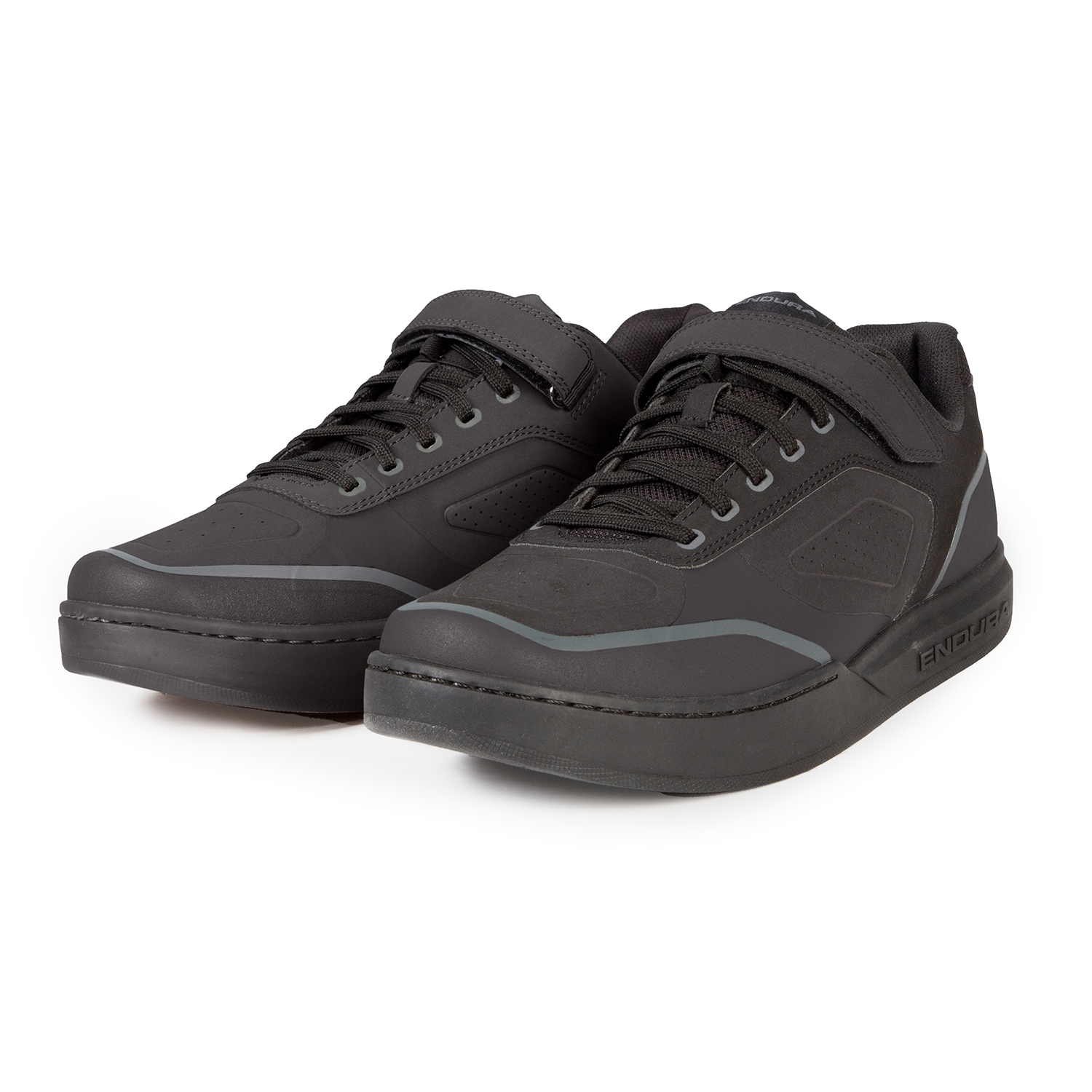 A superb option for leisure riders, mountain bikers or urban riders who want the option of clipping in some days, and riding flat on others. With a casual look and an excellent balance between on bike functionality and everyday walking, these shoes are perfect for both bike and day-to-day use. While the shoe is casual in styling, the materials that make up the upper of the shoe are anything but. Durability and robustness were the aims with this shoe, with tough PU upper and welded overlays providing a clean look and durable protection making it an incredibly versatile shoe.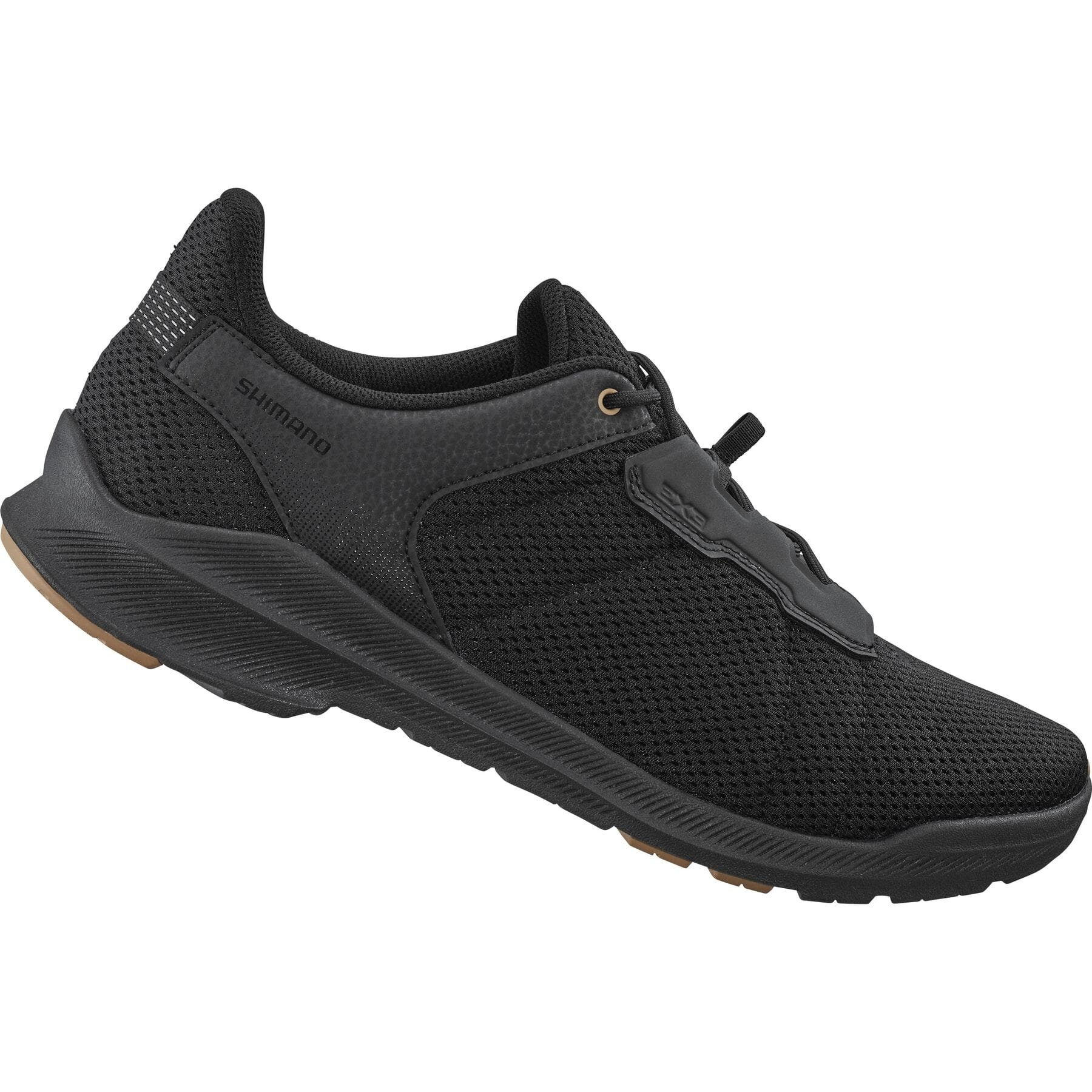 The Shimano EX3 is a multi-use cycling shoe with a breathable mesh upper and sustainable midsole construction for everyday comfort and style. Ideal for on the bike and off it, this shoe is engineered for maximum pedalling and walking comfort. As is the trend, these shoes are designed with style in mind and can be worn casually too with added inserts to increase walking comfort. These shoes are available in a male and female fit.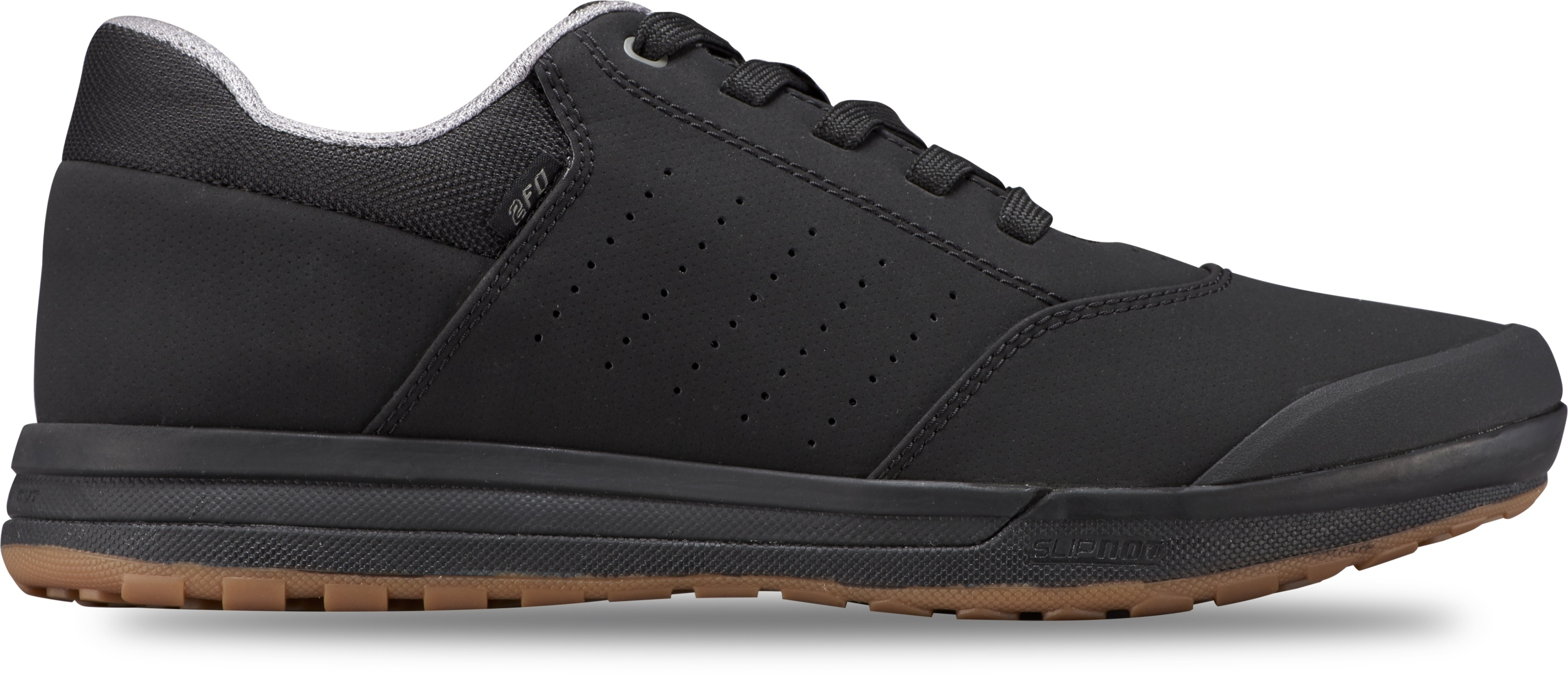 If you're looking for a versatile MTB shoe that can look as good on the trails as it does in the local cafe then look no further. Roost combines a durable leather and textile upper, cushioned EVA foam midsole and relaxed fit that can stand up to the rigours of daily trail use without sacrificing off-the-bike comfort and style. Last but not least, a SlipNot™ FG rubber sole delivers confident traction on and off the trails. Specialilzed's Body Geometry sole construction and footbeds are ergonomically designed and scientifically tested to boost power, increase efficiency, and reduce chance of injury by optimizing hip, knee, and foot alignment.
Hybrid pedals
As mentioned at the start of this section - hybrid shoes require hybrid pedals to get the most out of them. A hybrid pedal is basically an SPD pedal that has a flat portion on one side and a clip in portion on the other. Perfect for those who want to alternate flat and clip-in on a day-to-day basis or for those that are not confident of clipping in yet but know they want to do this in the future. They are a great pedal for those who want to keep their options open. Here are a few of the hybrid pedal options.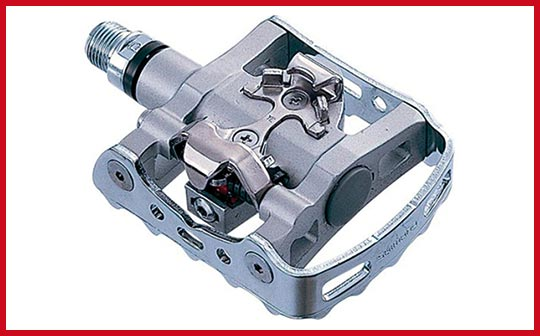 A compromise that really works. This pedal has SPD bindings on one side and a standard pedal cage on the other. This means you can ride in SPD-cleated shoes when you are looking for maximum cycling efficiency - say for longer trips - and ride in regular footwear when you just want to cycle into town. This pedal has adjustable cleat tension for those that want to unclip easier or have for the pedal to have a firmer hold of your cleat. We would recommend this pedal for the leisure, urban riders as the platform of the flat portion is not large or grippy enough to take on more demanding off-road trails.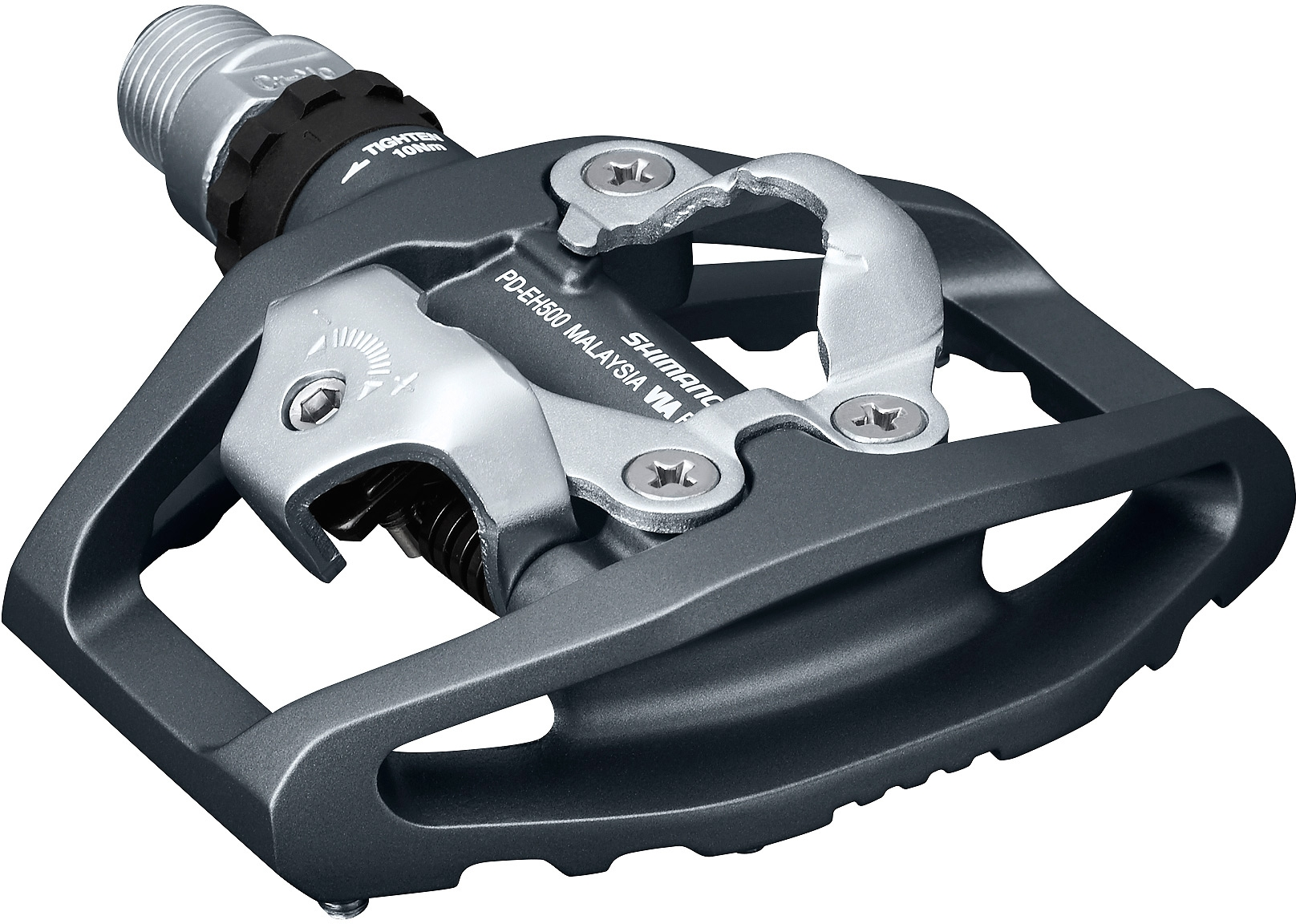 Ideal pedal for recreational riders who commute and tour. Combines SPD mechanism on one side and a concave stable platform pedal body on the other, you can ride with cleats or normal shoes and adjustable cleat tension means you can start off with loose tension for extra easy engagement and release, and turn up the tension as you progress. These pedals offer more grip on the flat side due to replaceable pins for gripping to your shoe base. Just be careful if you were these with regular shoes as the pins will be quite hard wearing on non-specific cycling flat shoes.
---
---
Clipless MTB Shoes
If you do not require the ability to use your shoes on flat pedals or hybrid pedals, this changes the style of mountain bike shoes you can opt for. These shoes will still use the SPD cleats to attach to the pedals but the style of shoes will change. They can have a stiffer sole and will have a knobbly underside to grip on gravel or off-road terrain while offering incredible pedalling efficiency. This name is a bit confusing as these shoes are ideal also for gravel cycling so they would really be better referred to as 'off-road cycling shoes' as they give great efficiency on the bike but offer excellent grip in mud, wet and loose surfaces.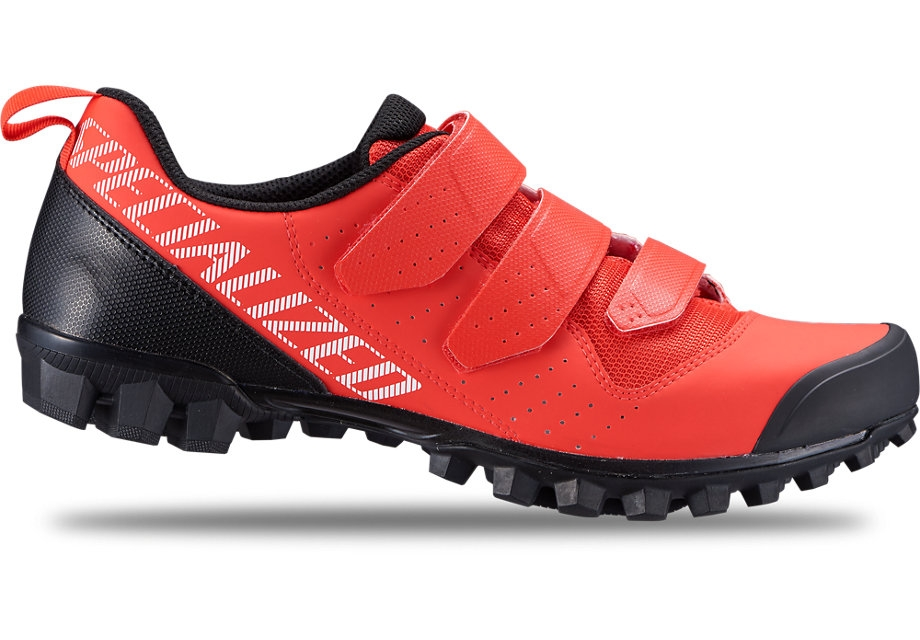 This shoe is called an MTB shoe but it can just as easily be used as a gravel shoe or even a commuter or leisure shoe. Featuring the 2-bolt cleats system (SPD compatible) these are a very modestly priced off-road shoe that offers great stiffness (6 on the scale of stiffness that runs up to 15 for the stiffest shoes) and comfort. Can be used as a touring shoe also as when you have to walk on loose surfaces or mud, these shoes will grip the ground well. As with many cycling shoes designed for off-road riding, these can turn their hand to many different cycling disciplines.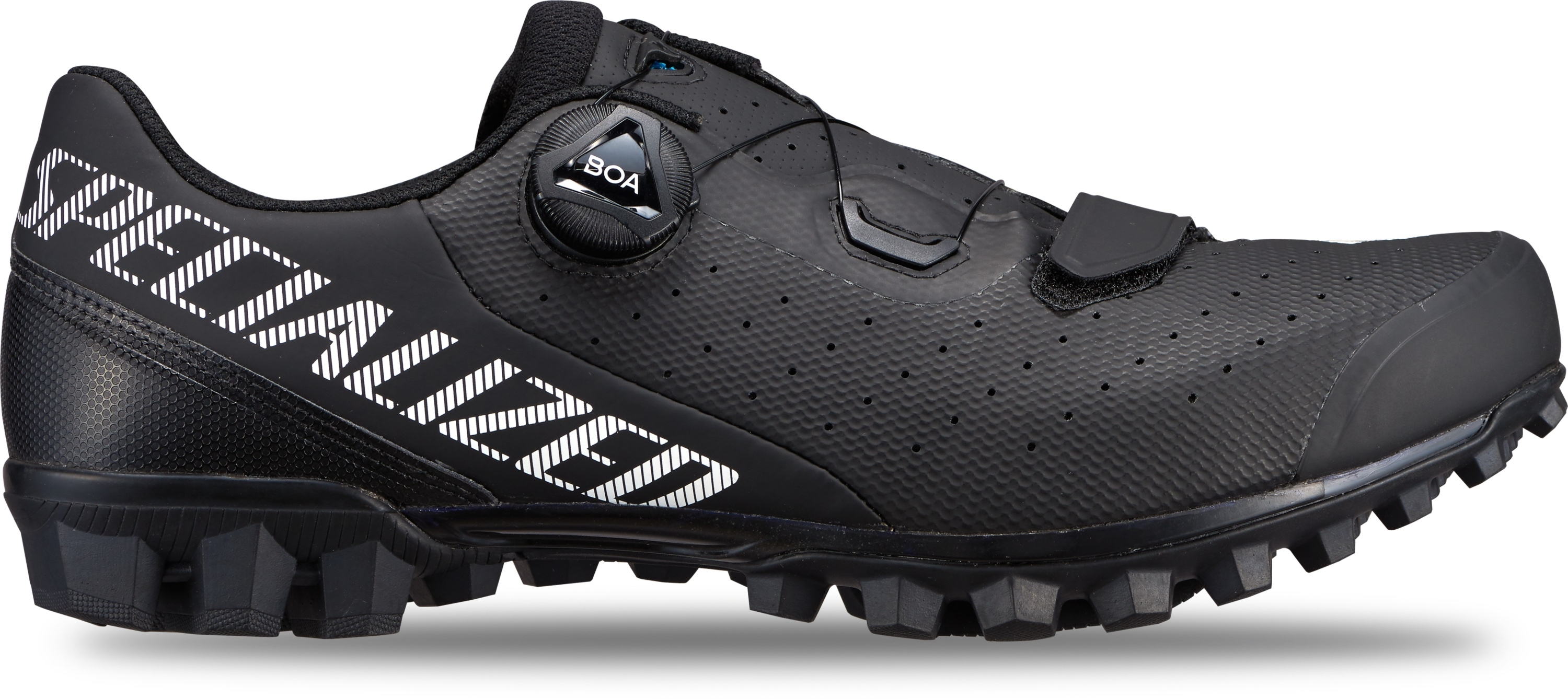 The next level up from the Recon 1.0 MTB shoe - these shoes come with vastly improved fastening in the shape of the BOA dial for an extremely snug fit and stiff soles that measure 6.0 on the cycling shoe stiffness scale for that balance between comfort and on-bike efficiency. As you can see from the picture, these shoes have a robust and grippy sole for running or walking on the sort of loose surfaces you find on the trails or forest tracks.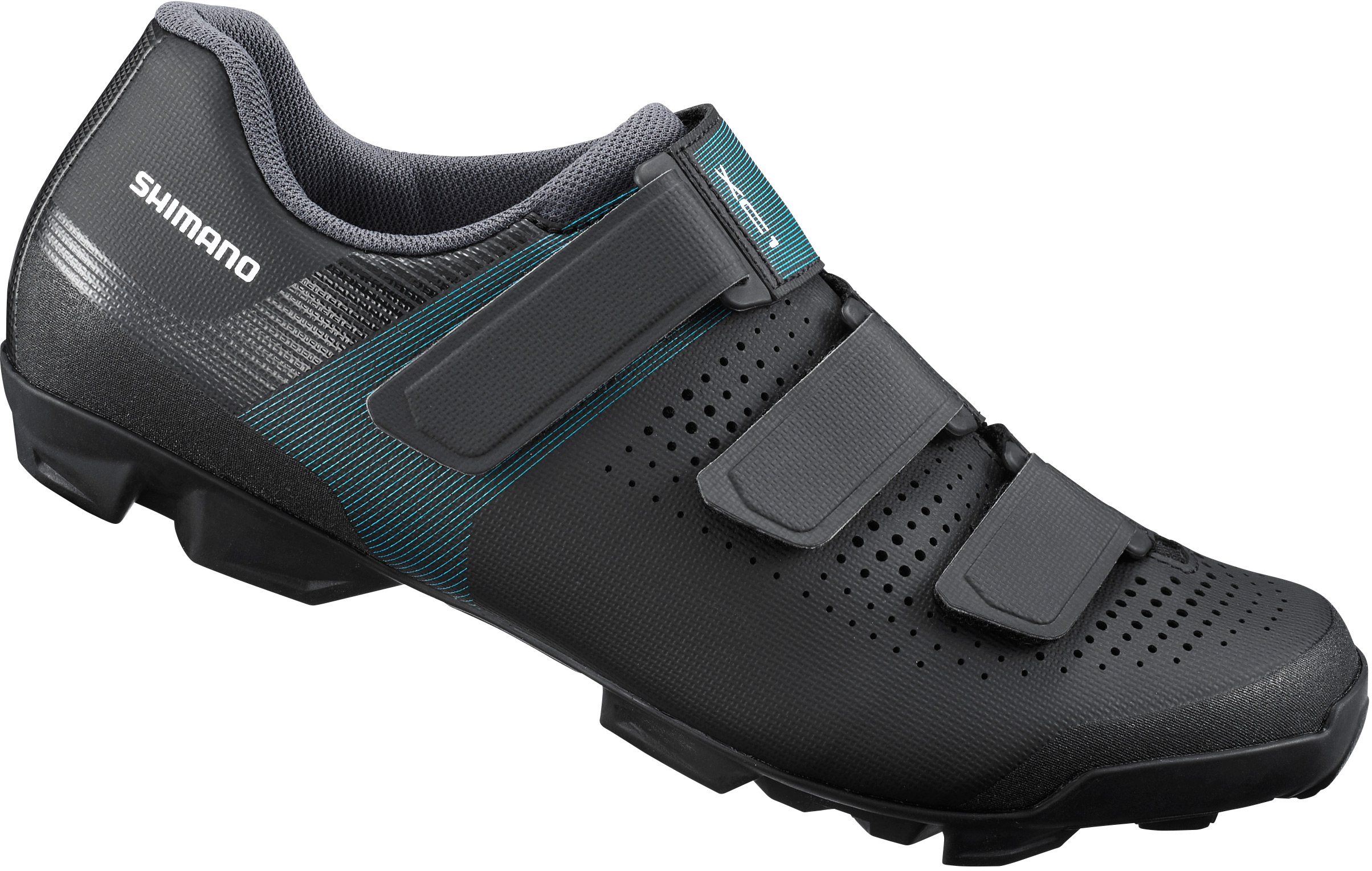 Another exceptional quality cross country mountain biking shoe whose upper structure reduces overlap, minimises hotspots and enables a glove-like fit for long days of XC mountain biking. Synthetic leather material with mesh texture provides a lightweight and breathable ride while a glass fibre reinforced sole, provides the stiffness for efficient power transfer. 360° reflectivity for ultimate visibility. These shoes are also available in a mens version (Shimano XC1 Cross Country Shoes).
MTB pedals
The above mountain bike clipless shoes will be compatible with 2-bolt cleats so whichever ones you opt for, whether Shimano or Hope, it will be the same brand of pedals that need to be used with them. Luckily enough, all pedals come with one set of cleats to get you started - you just need to buy the same ones in future.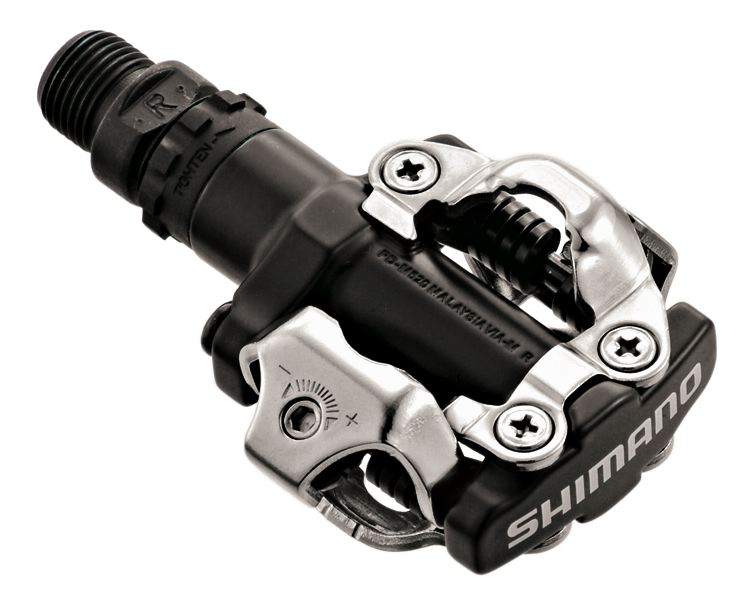 Here are the most basic SPD pedals but they are excellent value for the price and are tried and trusted pedals from Shimano, the company who first popularised clipless step-in pedals for the everyday rider. These pedals are double sided so you don't need to worry about aligning the pedal before clipping in - you just clip in and go. Another benefit to these peddles is the open design that is good for mud shedding.
One possible downside to these pedals is that there is not a particularly wide base for the foot to sit on so for those that have wider feet or less stiff soles, you can sometimes see hot foot or extra foot arch strain but there are other pedals that give a wider base.
For those who want a wider base for the foot and more power transfer through the pedal stroke, there are the Hope Union Trail Pedals that offer a secure fit for your shoes with more contact between the foot and the pedal for more efficient and more comfortable riding. With 4 pins per side, this will hold your foot firmly in place on even the roughest of cross country or downhill cycling. It is worth noting here that the cleats for the Hope pedals is different from Shimano SPD pedals. The cleats that are compatible with these pedals are pictured below although the pedals do come with compatible cleats.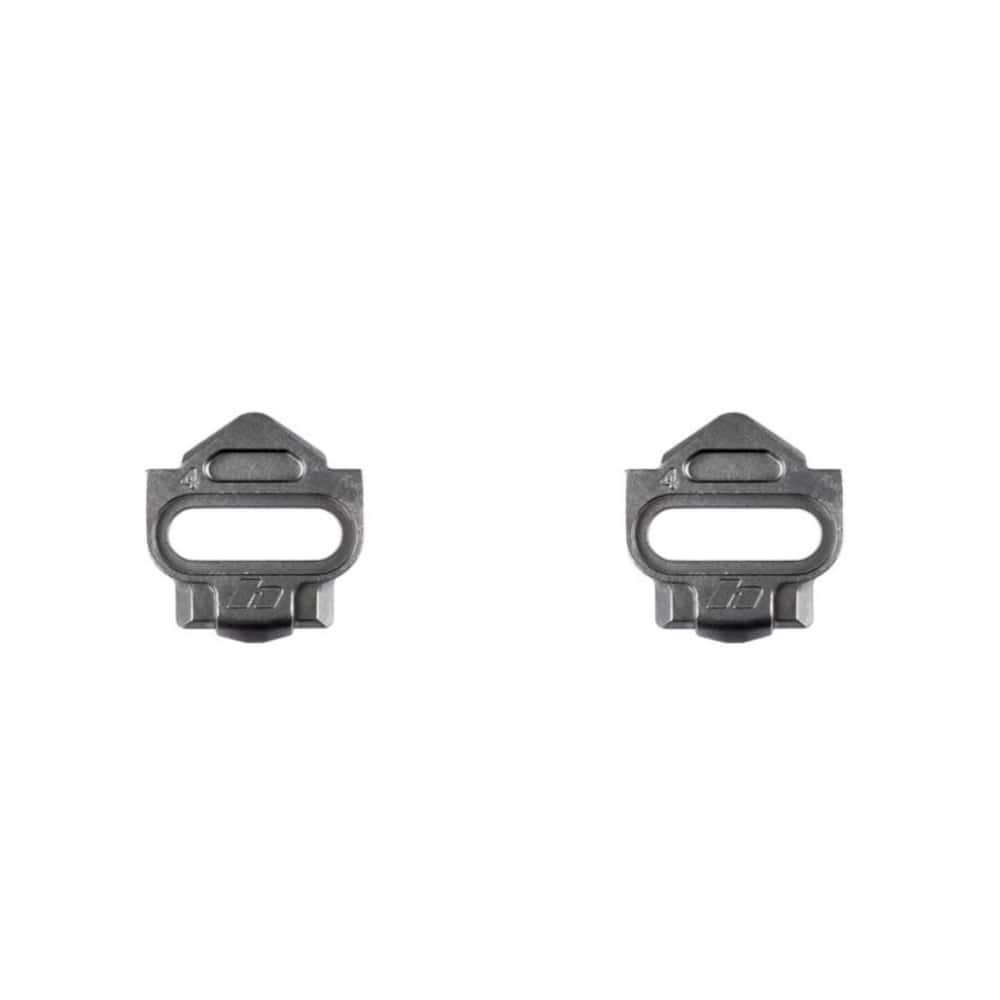 Clipless Gravel Shoes
Clipless gravel shoes will actually have a lot of similarities with the mountain bike shoes and pretty much all the shoes that can be used for mountain biking, can be used for gravel cycling. Both shoes are designed to give a secure base and secure fit when riding MTB or gravel with the ability to walk on loose, sometimes muddy surfaces as the soles are more knobbly. One difference with gravel shoes is that some are designed to run in for those who want to do cyclocross racing and riding as there are sections where you need to run with your bike. There, you need to get the balance between stiff soles and the ability to run on soft ground.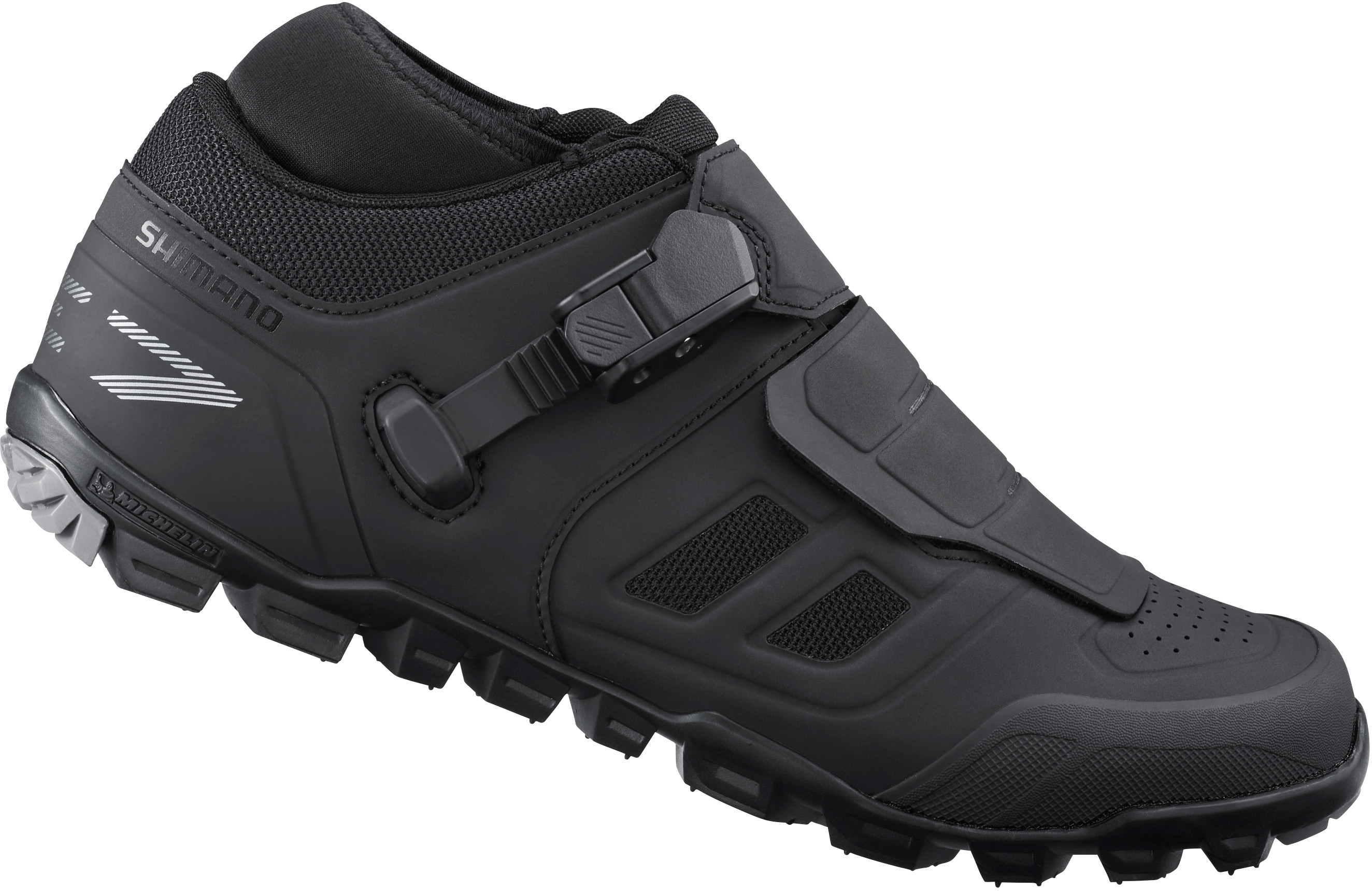 If you are looking for a robust, comfortable shoe that is great on the bike and also incredible at scrambling on loose muddy surfaces then the Shimano ME7 is for you. We have put this in the gravel section but this could easily be your go-to mountain bike shoe, hardy commuter shoe or off-road leisure shoe. Features a stiff sole that measures 8 out of 15 on the cycling shoes stiffness scale for amazing power transfer and comfort with a Michelin sole for great grip for running or walking on off-road terrain. Ever get a stone or gravel down your ankle on a ride? Not with these - they also have a rubble cuff made of neoprene to keep sand, gravel and stones out of your shoes. Really a great shoe for lots of different disciplines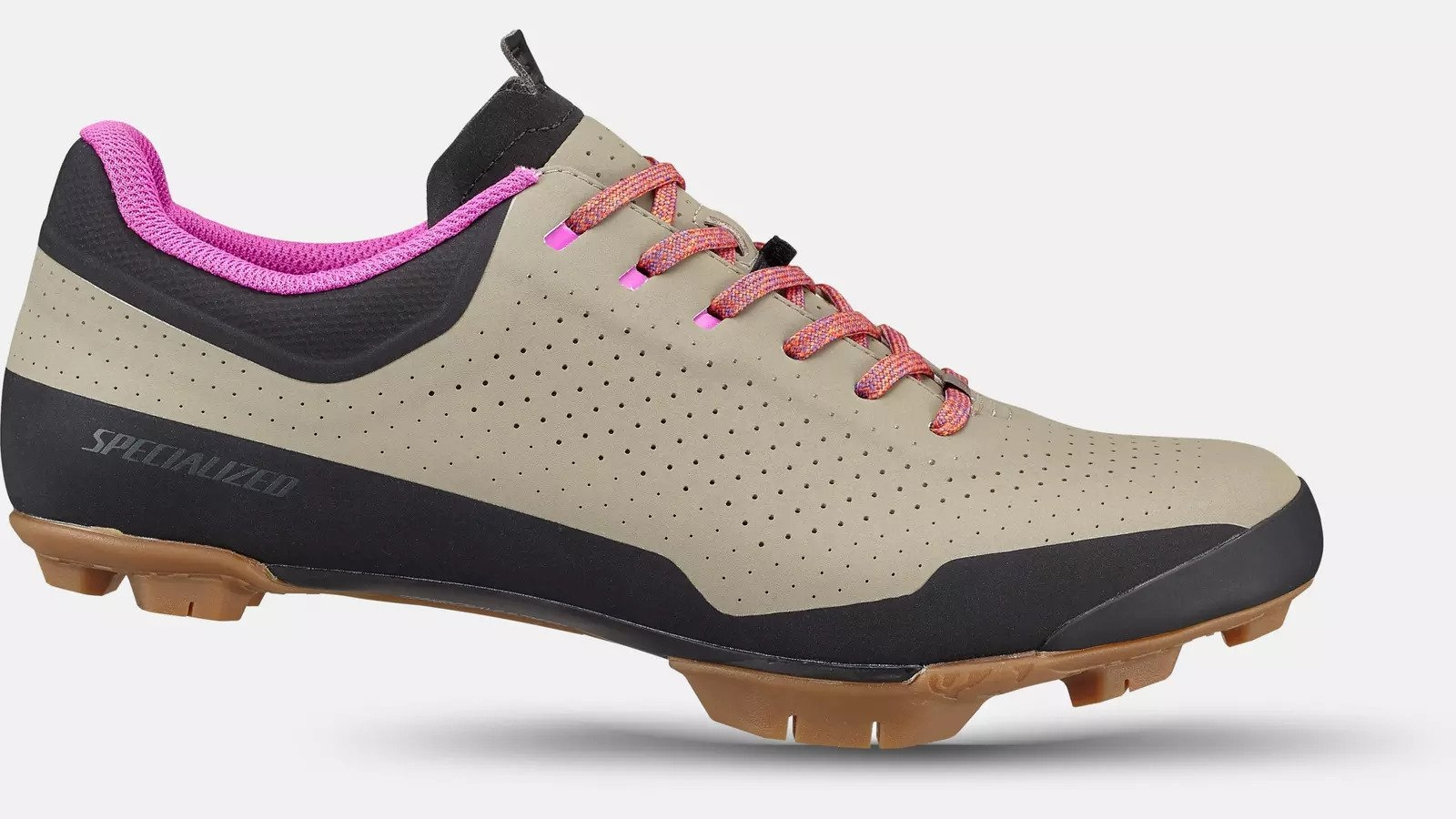 If there was an award for best looking road gravel shoes then we think these would take home the prize. But we aren't here for looks (ok, maybe a little), we are here for performance and the Specialized Recon Adv gravel shoe tick this box too. With a stiff sole for that pedalling efficiency but with a toe flex built in for running up steep inclines with your bike or just for everyday walking comfort. In short; a great looking shoe that offers excellent comfort on the bike that can still be walked in very comfortably.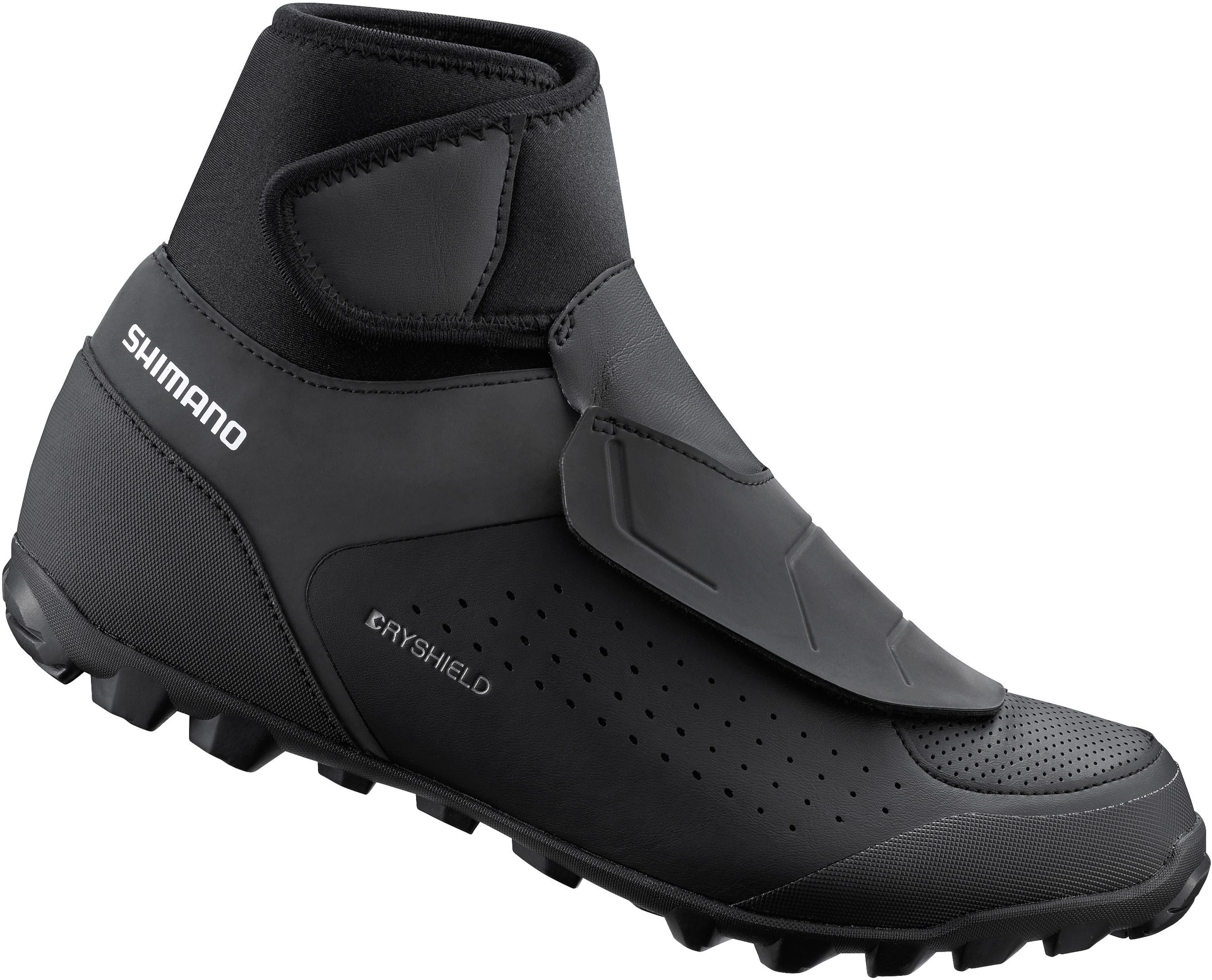 And now for a robust wet weather or winter cycling shoe designed to keep the elements out. For those that like to ride in all weathers but want to protect their feet from the wet and the cold on gravel or commutes through winter. These shoes can be used as gravel shoes, mountain biking shoes or are ideal for the commute in adverse weather. The waterproofing is built in so there is no need for overshoes thus taking a bit of faff out of your ride. The sole offers all-conditions traction and grippy sole for if you need to walk or run with your bike. Built for the most extreme conditions and built to be robust and comfortable.
Gravel pedals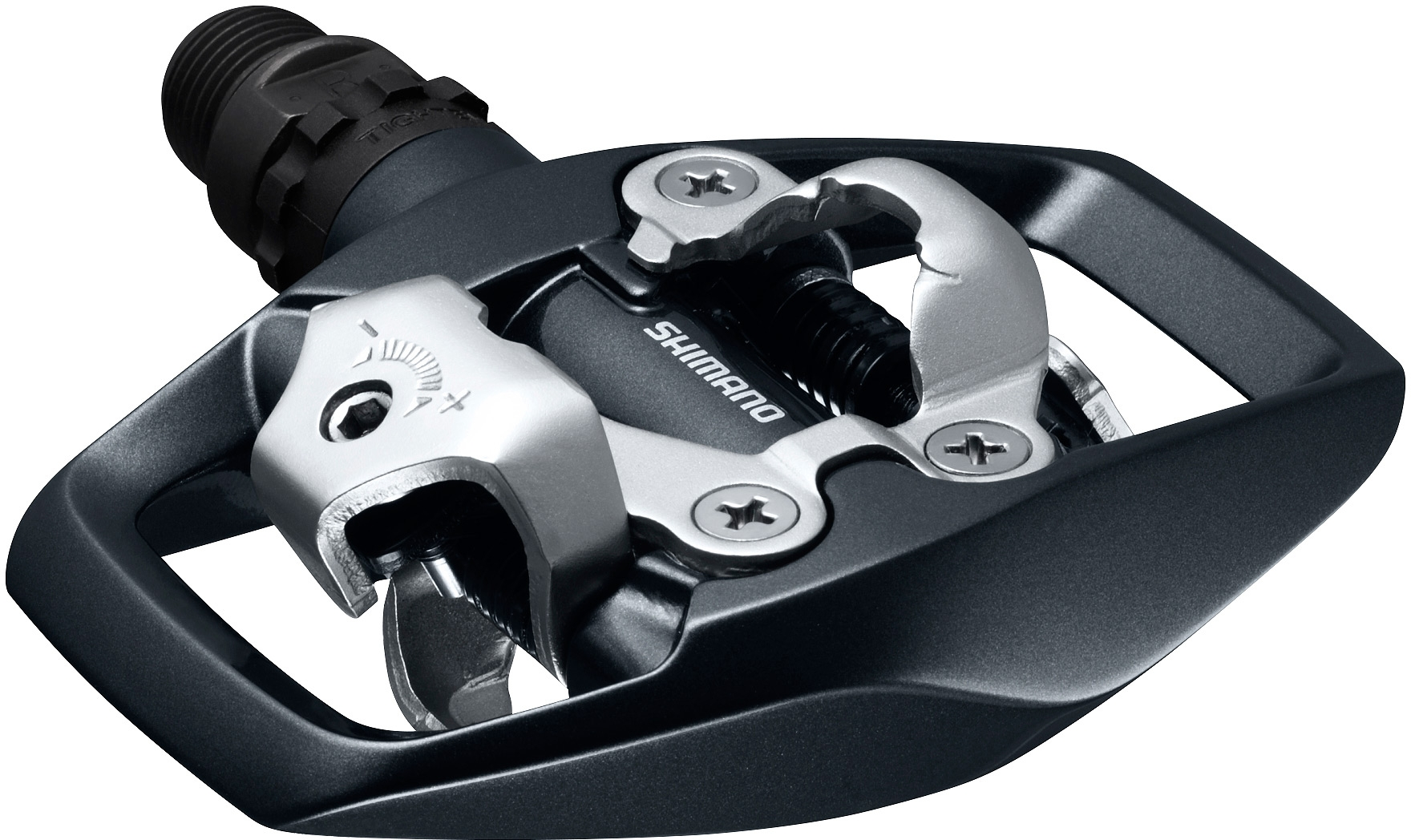 The Shimano PD-ED500 pedals represent a great value for money dual-sided light action SPD pedal, perfect for a number of disciplines - XC mountain biking, touring, gravel riding and even road cycling. As mentioned previously, the smaller cleats can sometimes fair to provide support for the foot especially for people with bigger and wider feet but here, a large integrated cage provides excellent pedal to shoe contact increasing stability and control for those new to the world of SPD pedals.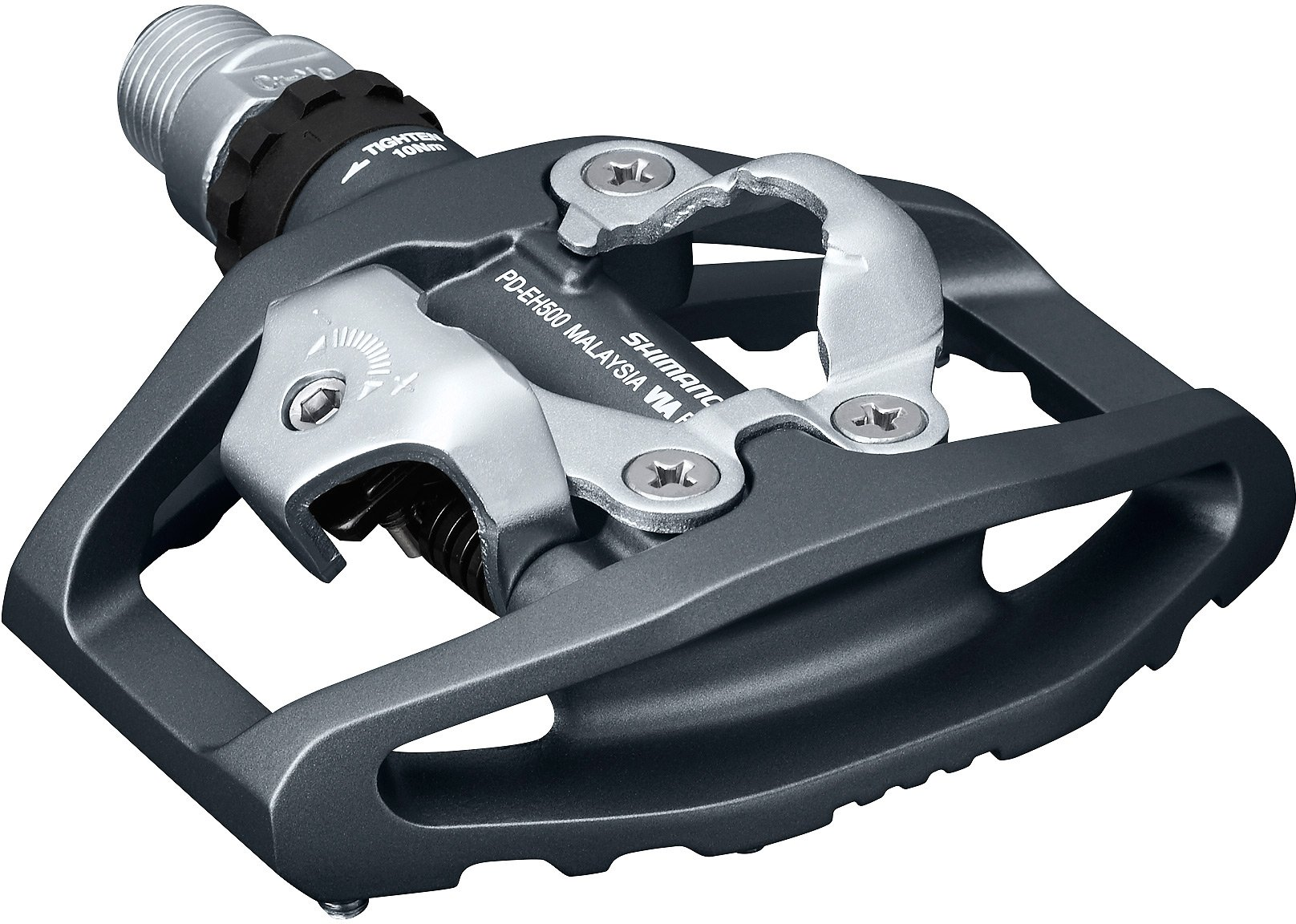 Yes, we have mentioned these pedals previously but they are worth mentioning again as they work incredibly well as a gravel pedal. The reasons for this are that some people will use their gravel bike for commuting during the week and then on the weekend for leisure rides. Maybe when you ride to work you wear flat shoes and will use the flat side of this pedal and for your leisure rides, you want to clip in for the added efficiency for longer rides. These pedals offer good versatility for those that use their bike for different purposes.
---
---
Road cycling shoes
With road cycling shoes, this represents the first real change in the technology used and the looks and purpose change quite dramatically. It should be said here that any of the above shoes can be used on a road bike if you fancy their benefits more. The most likely reason to use SPD style shoes on a road bike is the ease of being able to walk in these rather than, as you'll see below, the relative difficulty in walking in the road style cleats as they sit down from the base of the shoe. There are a number of benefits to a specific road shoe which we will go through here and then look at some examples of the best road cycling shoes and pedals.
As mentioned above, road cycling shoes have a different cleat attachment setup - a 3-bolt design (rather than the 2-bolt design of MTB/Gravel/commuter shoes) that allows them to only accept the SPD-SL style cleats made by Look and Shimano. Rather than being sunk into the shoe, a road cleat will attach to the base of the shoe and stick out from the bottom - this is because the cleat itself is much larger in size and cannot be easily sunk into the shoe. There are a number of benefits to this setup that benefits road cyclists greatly.
What are the benefits of the 3-bolt (road) system?
Ask any road cyclist to list some of the main characteristics that are must haves in road cycling and we can guarantee that 'lightweight' and 'efficiency' will be two of the highest on the list. Road cleats and shoes certainly strive for this in their design. As the road cleat sits proud from the base of the road shoe, there is less material required on the base of the shoe as they are not designed to be walked in. Compared to gravel and mountain bike shoes, you will see a lot of extra material on the base in order to give grip on loose surfaces and tarmac. Lightweight plays right into efficiency as the lighter you and the bike are, the more efficient you are (particularly uphill) but the fact that these shoes are only designed for use on the bike means that you can also make the sole stiffer for less foot movement through the pedal stroke and more of your energy going towards propelling you forwards. When you are clipped in, you are able to utilise more of the pedal stroke and in road shoes, with a wider cleat and a stiffer sole, it is easier to pull up on the 6 to 11 o'clock portion of the stroke. The only other characteristic we have not mentioned yet is comfort (usually lower on the road cyclists hierarchy but there nonetheless) - having a wider cleat means a wider base for your foot and less chance of getting "hot foot" or foot pain especially on longer rides.
A note on stiff soles
You will likely see stiffer soles on road cycling shoes as there is greater emphasis on efficiency and less on walkability. The cycling shoe soles are measured on a stiffness scale that goes from 1 to 15 and, of course, the larger the number, the stiffer the sole. A stiffer sole spreads the force of your pedal stroke along and across more of the foot meaning that you are not flexing your foot as much. Flexing your foot through the pedal stroke puts excess strain on the arch of your foot and the ball of your foot resulting in hot spots or sometimes pins and needles in your toes. At the stiffer end of the scale, you will likely find a super stiff carbon sole as carbon is the best material for combining being lightweight and incredibly stiff.
And the downsides of road cleats and shoes?
The main downside of a road shoe is the relative difficulty in walking any distance. You can walk from your bike to the cafe to get your coffee and cake but anything beyond this is a hassle. Usually a small price to pay for road cyclists that just want to be as fast or efficient as possible.
What do you get when you spend more on road shoes?
Further to what we have discussed above, it may be obvious to guess what improves when you spend more on road shoes but we will put it here to remove doubt. Spending more money will get you a stiffer sole and a lighter overall shoe. Another main thing you pay for is the material used for the upper as a more expensive shoe will perform like a good cycling jersey and keep you comfortable by wicking the sweat away and keeping your feet cool and dry. Some companies will add sole vents to further increase the airflow around your feet for those warm days.
What do you get when you spend more on road pedals?
The same goes for pedals - they are not all made equal. As you spend more on a set of road pedals you get - you guessed it - lighter weight and more efficiency. The lightweight comes from a similar idea as the shoes in using carbon as a material to keep the strength but reducing weight but the efficiency comes from the internals, particularly bearings, that allow the pedal to rotate more freely on the axle and providing less resistance on your pedal stroke.
Best road cycling shoes 2023
A relatively inexpensive shoe that provides comfort and stiffness with a glass fibre reinforced sole that measures a 6 on the stiffness scale (out of 15). The synthetic upper provides good breathability and the single Boa closure system offers a cosy fit across the foot. A very good entry level shoe for road cycling. These shoes are available in a men's version (above) and also a women's version.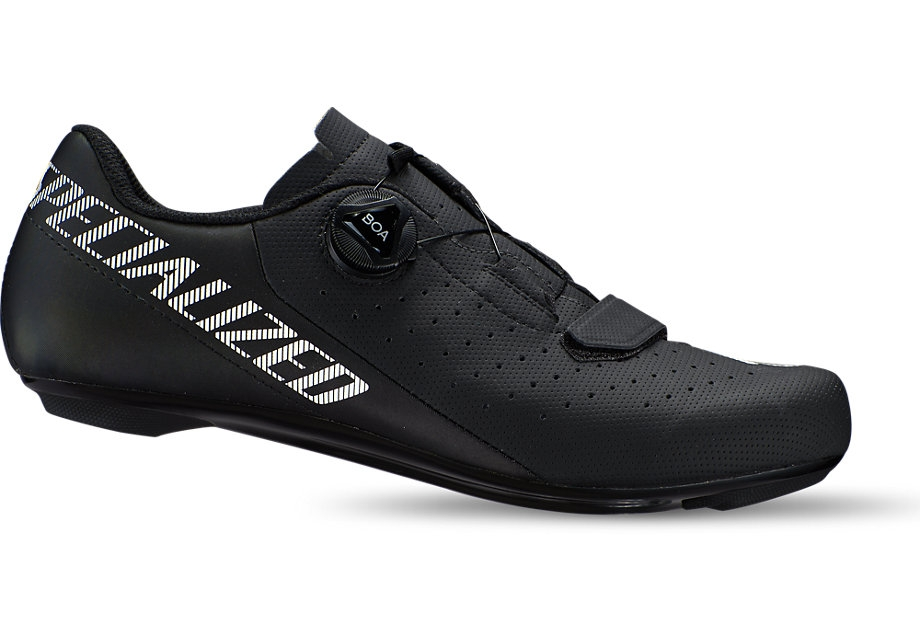 The Torch 1.0 is one of the most feature-packed entry-level road shoe on the market. Speciliazed threw out the rule-book on entry shoes and equipped this shoe with an L6 Boa for precise fit along with a velcro strap. Specialized use their own Body Geometry ergonomics that are designed and scientifically tested to boost power, increase efficiency, and reduce chance of injury by optimizing hip, knee, and foot alignment. Measuring a 6 on the stiffness scale for that added efficiency. A very good value cycling shoe for the money.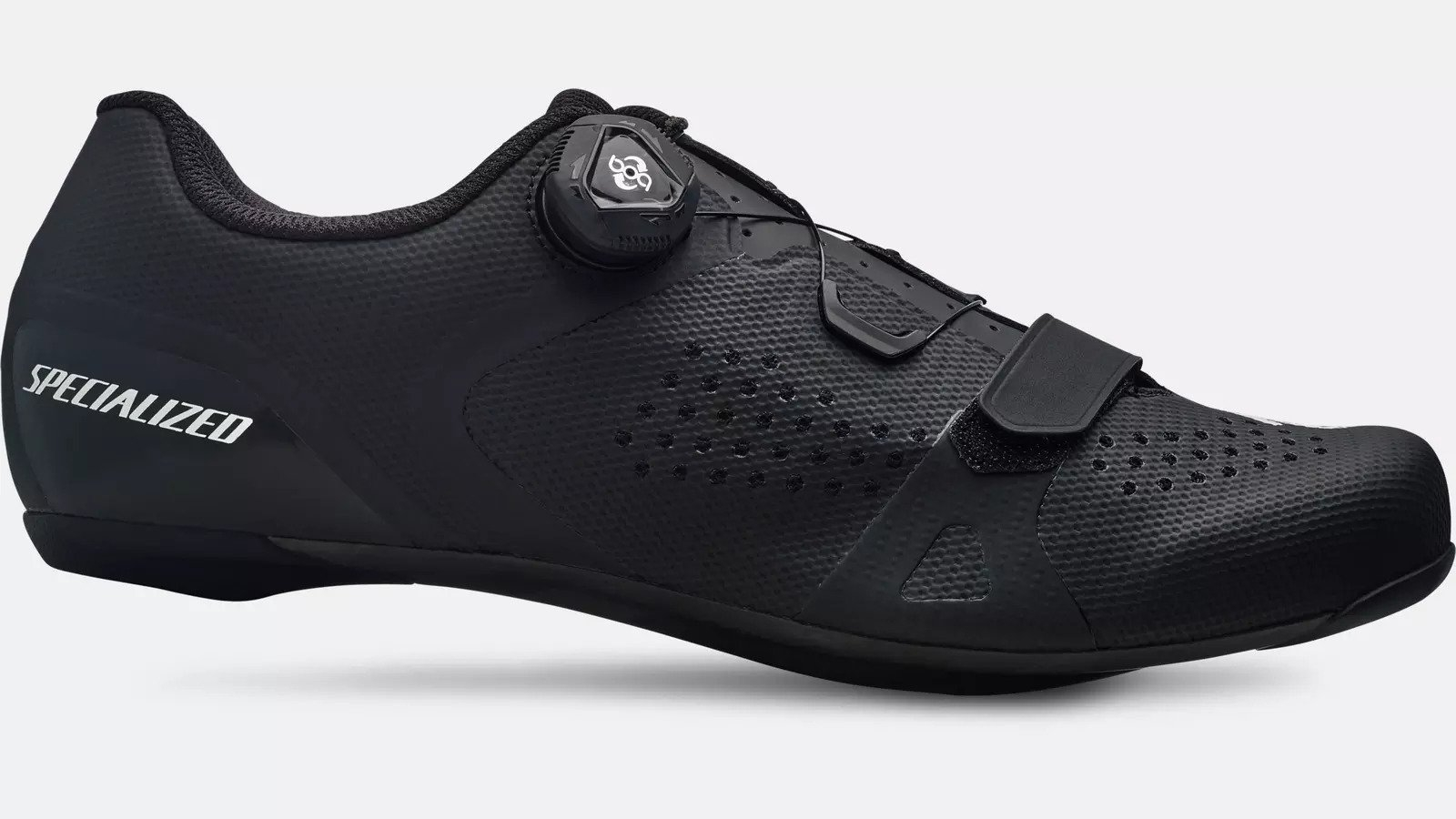 The Torch 2.0 Road shoes are all about comfort - well, comfort and performance that is. In order to increase comfort, Specialized implemented a 100% mesh and TPU construction on the Torch 2.0 that allows for more wiggle room in the toe box and a less constrictive, sock-like feel.
The new, comfortable upper is paired with a carbon sole with a measure of 7 on the sole stiffness scale for that lightweight efficiency. On the sole are a rubber heel and toe that provide the off-the-bike traction. One nice touch to note on this shoe is the BOA dial that is used - it allows micro-adjustment while on the bike. This is particularly useful as the longer you ride, the more your feet swell so it is handy to dial the tightness back if this arises.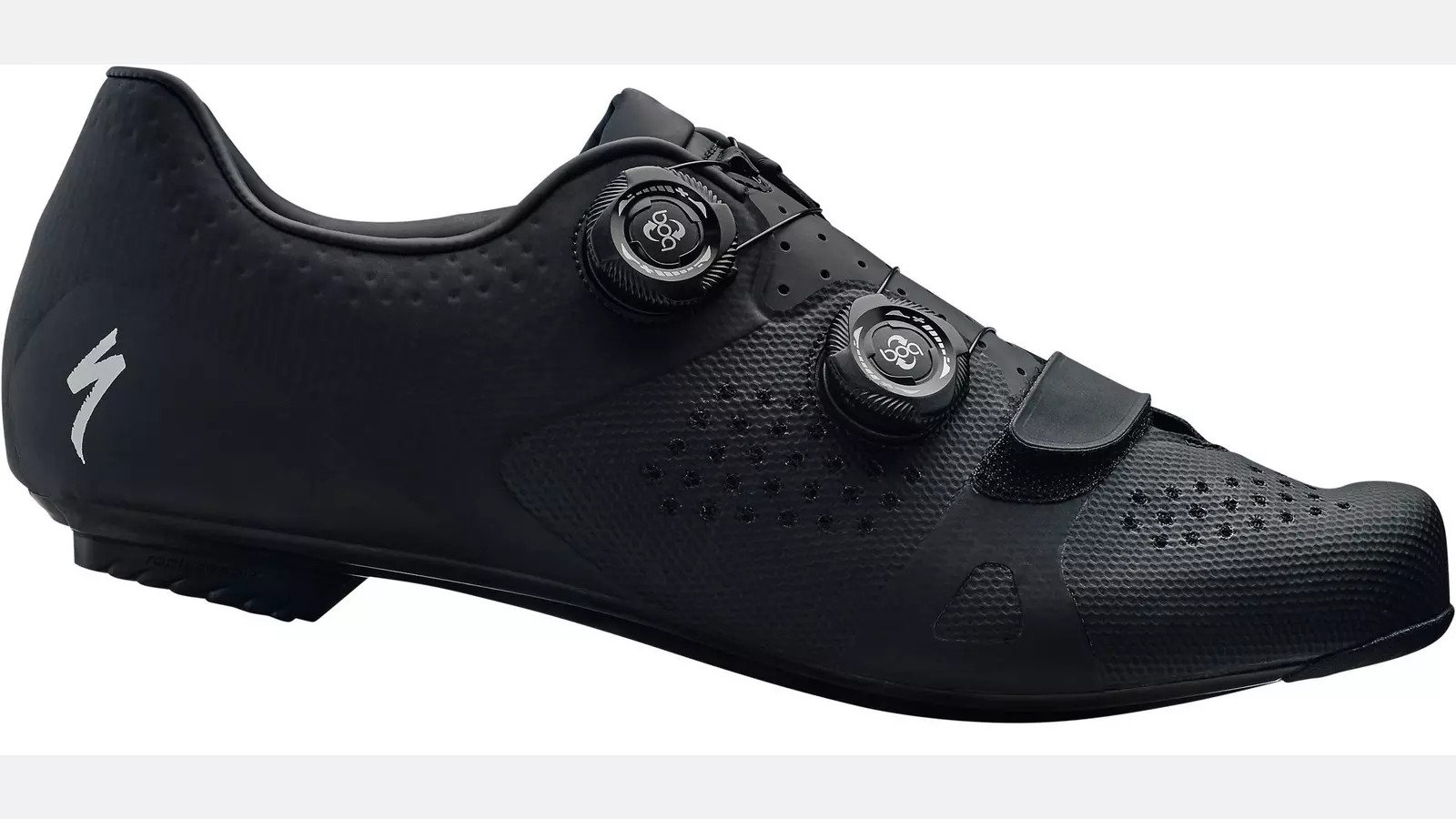 Ramping up the efficiency, lightness and comfort is the Specialized Torch 3.0 road shoe that features a mesh front and synthetic leather rear for more comfortable and supportive front to the shoe. A stiff rear and cup improve heel retention by locking down your heel and keeping all of your watts going into the pedals as efficiently as possible. Finished off with full carbon soles and double Boa dial for equal pressure across the foot without pinching. A really comfortable for short races where efficiency is key or for long days in the saddle where comfort is paramount.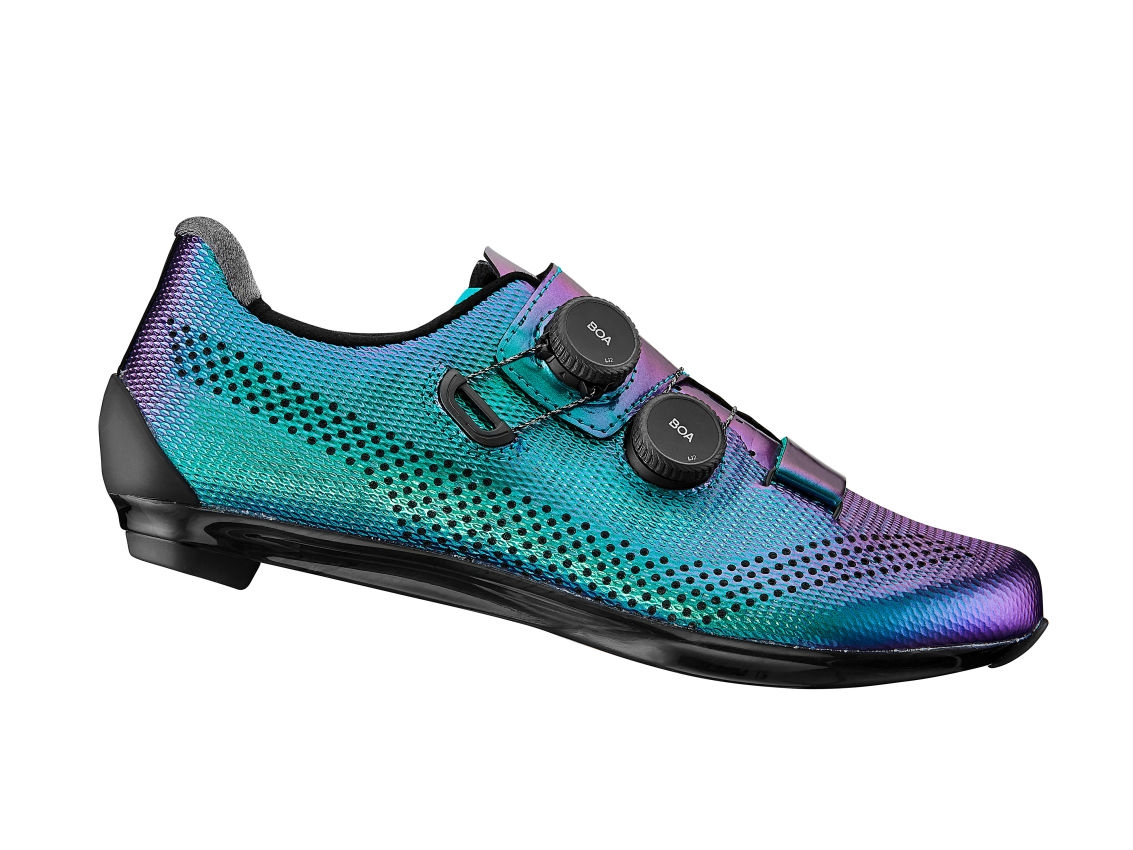 The new Giant Surge Pro is made for decisive bursts on the road and the long hours in between. Race days and training days. Phenomenal power transfer is combined with lightweight comfort and a personalized fit on one of the best performing shoes. It is the lightest, most efficient road shoe ever from Giant, and it is the top choice for pros including grand tour winner Simon Yates of Team BikeExchange-Jayco.
The engine room of this shoe is from the full carbon fibre sole that is incredibly stiff but also extremely lightweight so it concentrates more of your effort into propelling you forwards. The comfort of this shoe comes from a double Boa dial for compressive, but not tight, fit and includes high frequency welded seams and laser cut micro-perforations for optimal ventilation and a balanced foot climate.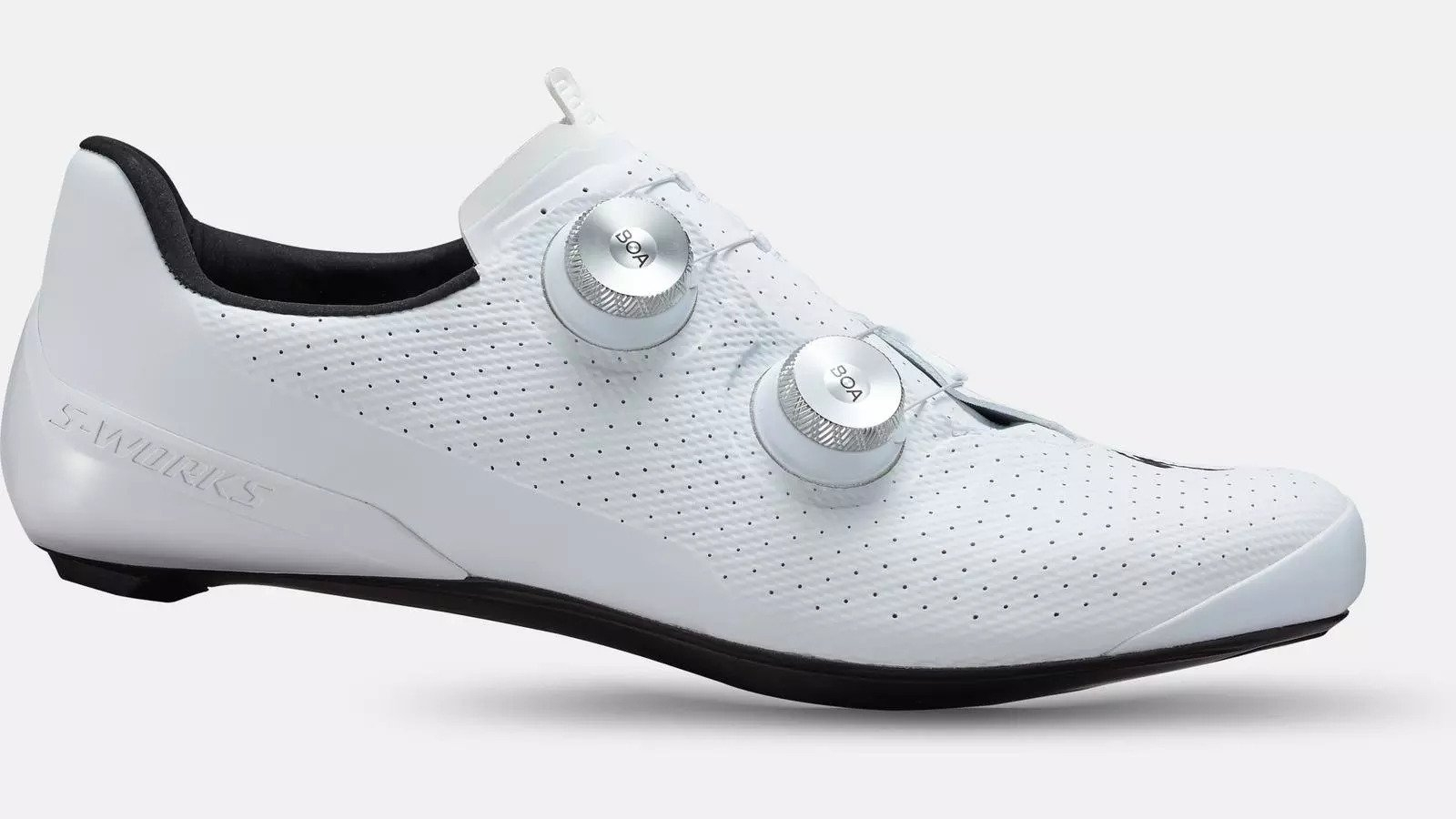 This Specialized S-Works shoe uses what Specialized call 'Body Geometry' to develop high end shoes so light and comfortable that you will forget you are wearing them. It is not just comfort that this shoe boasts - it also offers incredible power transfer for increased transmission of power from you to the pedals resulting in a faster, or longer ride for the same energy. Specialized have also managed to make the carbon sole 20 grams lighter than previous versions of their most popular road cycling shoes.
Leveraging data science, Specialized refined every detail of the S-Works Torch upper for improved fit and performance. The BOA cable is shifted down and angled, preventing lift on the ball of the foot and delivering power-enhancing structure while eliminating unwanted pressure or pinching. Adaptive materials allow natural movement of the foot where needed for comfort, while data-driven zonal reinforcement keeps the foot secured for crisp power delivery and optimal efficiency.
If you are serious about those, not so marginal gains (thanks Team Sky) then these are some of the best road cycling shoes that will make your time on the road bike that much more enjoyable.
Road Cycling Pedals
As mentioned at the start of the road cycling section, these road shoes require three bolt cleats from manufacturers like Look and Shimano with their specific pedal. When you buy pedals, you will get one set of cleats to start you off that are compatible with the pedals. Just a quick note that you cannot use Look cleats on Shimano pedals or vice versa.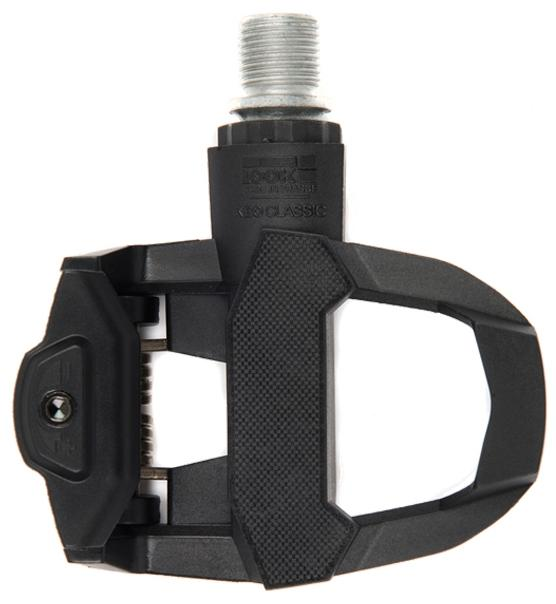 For a very inexpensive but quality entry level road pedal, the Look Keo classic 3 are hard to beat. Compatible with the Look Keo cleats (included when you buy the pedals) these polyamide pedals with adjustable cleat spring tension are an excellent starter for those starting road cycling as you can start off with a light resistance when you unclip and you can ramp this up as you get more confident.
These are the cleats that are compatible with the Look road pedals.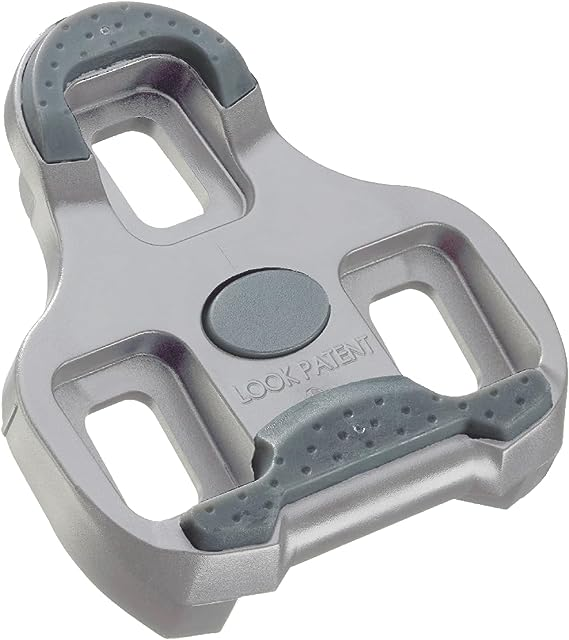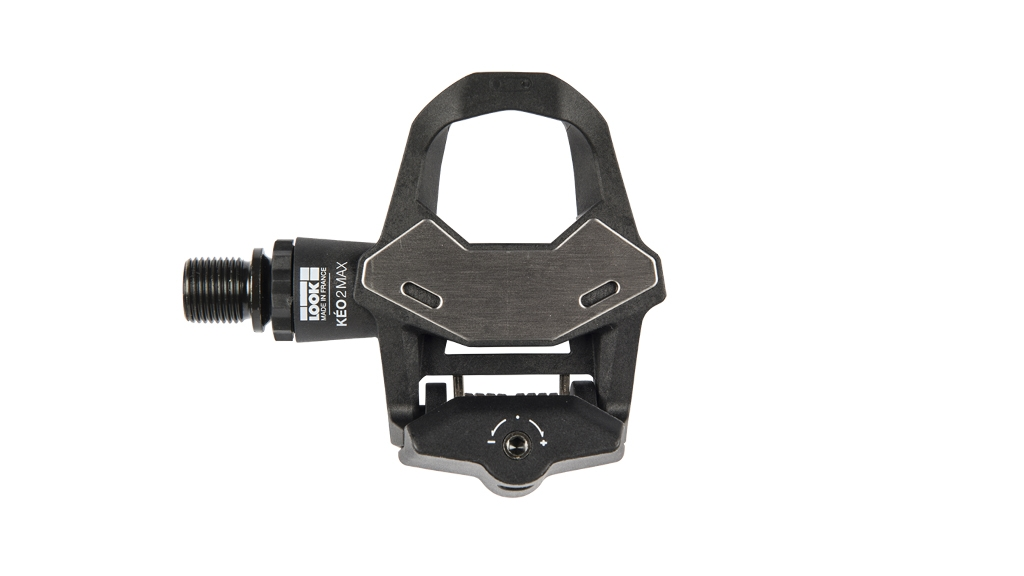 The upgraded version of the Look Keo Classic pedal. What makes this pedal a worthy upgrade to the Keo Classic? Well, for a start, these pedals come in at just 130 grams per pedal and have a 12% larger cleat contact area for improved foot stability while pedalling so less chance of niggles in the foo area when racing or on a long day.
Finally, the spindle profile of the new KEO 2 MAX has also been optimized. Built around an oversized Chromoly Plus steel axle, it is composed of an axle with an inner ball bearing and a needle roller bearing, located under the contact surface, to handle the load and distribute it optimally while offering more efficiency through less resistance.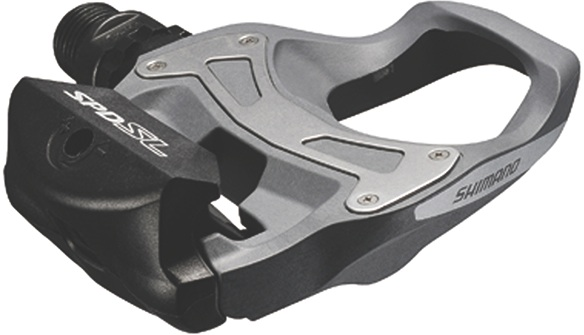 The Shimano PD-R550 SPD-SL's wide, lightweight nylon platform makes for a large shoe contact area to maximise power transfer, foot stability and support. The PD-R550's open design and the wider cleat and cleat engagement zone (compared with standard SPD pedals) facilitates confidence-inspiring foot engagement and release and the pedal axle spins on low-maintenance cartridge sealed bearings for a pedal that is robust and efficient.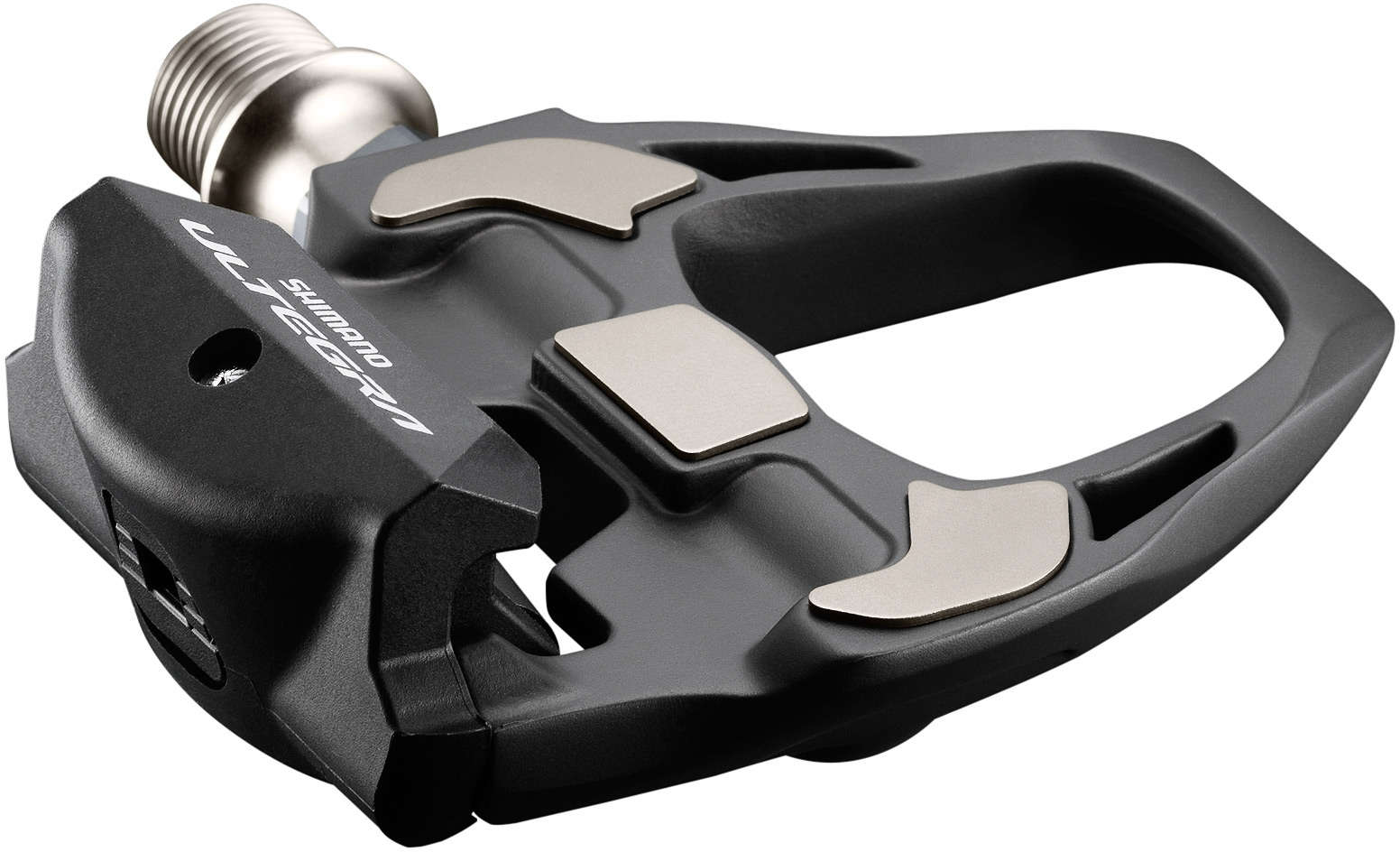 Super lightweight carbon SPD-SL road pedal for high performance road racing. Wide lightweight carbon body provides large shoe contact area to maximise power transfer and support whilst reducing weight. Low profile design increases road clearance for increased confidence when slicing through corners. Adjustable cleat tension to allow for personal preference whether you want it easy to detach or a bit firmer.
This pedal really has it all - light weight, a wide footbed for excellent foot support and efficiency from the low resistance axle and bearings.
Shimano Cleats
Below are the Shimano SPD-SL cleats that are compatible with the Shimano SPD-SL pedals and aside from the yellow which gives 3 degrees of float in either direction, blue cleats which give 3 degrees of float from a front-centre pivot and the red which is completely fixed in the pedal. Shimano pedals will come with the yellow cleats as standard but when those wear out, you can buy the other colours aftermarket. A note on the red - these ones can be problematic if you don't have them set up exactly where you need them as being locked in can be hard on ankles and knees if they are not correctly set up. That is why the yellow are the most popular as they allow for the lateral movement to take that pressure away from the lower joints.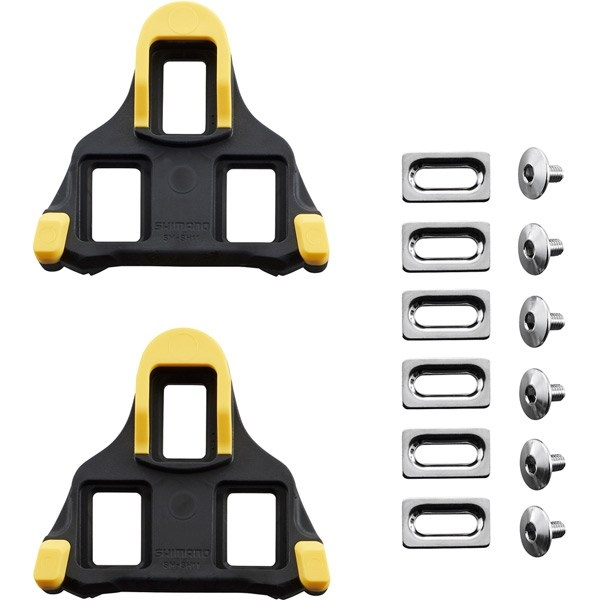 Thank you for reading our compendium of all things cycling shoes - we hope this has helped you make an informed decision about the best cycling shoes for you, whether you are leisure riding an electric bike, cross country mountain biking, commuting or road cycling.
As with a lot of things cycling related, there is quite a large degree of personal preference involved as there are lots of people who wear SPD pedals on a road bike because they want to be able to walk in the shoes and likewise there are lots of people who prefer to stay away from cleats altogether for a variety of reasons - confidence levels and even the length of rides do not justify them. As a bonus, we will continue with some helpful hints and tricks for those starting out with clipping in as there are some do's and don'ts to make the process a lot easier.
---
Helpful hints and tricks for clipless riding.
It can seem a very daunting experience to attach yourself to your bicycle especially if you are new to cycling or have been away for a while. Our initial advice is to use flat pedals to begin with while you get used to your bike as it can be quite overwhelming to get used to new gears, brakes AND to throw new cleats in the mix. So here are our main tips for starting out with clipless pedals-
To clip in, you need to align the pedal with your cleat by pushing your toe in and then firmly pressing your heel down so you hear a satisfying click

In order to unclip, you simply pivot your heel out while keeping your toe stationary

Some SPD pedals will allow multi release so you can get out of the pedal other directions than just a heel pivot - ideal for beginners.

When starting off, adjust your pedal cleat tension to the lowest so it is easy to remove your shoe from the pedal. Then, when you get more confident, you can increase the tension for added efficiency and stability.

When using the cleats for the first time, find a wall or a fence to hold on to and stay stationary. From here, practice clipping in and out until you feel comfortable with the action (the cleats will be stiffer to start with and will then relax after a number of entries and exits from the cleat - two good reasons to practice stationary first of all)

Once you are familiar with the action, take a ride, preferably on grass or something soft and practice while moving (trust us on this one, we have all taken a spill from not unclipping in time)

When out on the road, if you see a traffic light or somewhere you have to stop, don't be afraid to unclip early and get ready for the stop. The more you practice, the closer you will get before unclipping until you can unclip on command.

When setting up the cleats, it is a little trial and error but good advice is usually to try and match your foot position when walking. If you walk with toes pointing outwards, set your cleats up so when clipped in your toes point slightly outwards. This is a starting point only, sometimes you will need to make numerous adjustments before you get it just right.

With road cleats, it is important to also practice the technique of orienting the pedal before clipping in as the road pedals are one sided.

Once you have used clip in pedals for a while, it will all become second nature and you will unclip and clip-in without even thinking.
We are aware this is a lot of reading but, as always, if you have any questions or need help finding the best option, we have staff in stores or in our online team that can talk cycling shoes with you and help get the best option for your style of riding and personal preference. Visit us in any of our stores in Newcastle, Leeds, Aberdeen or one of our three stores in Edinburgh - Bruntsfield, Canonmills or our newest store on Hamilton Place in Stockbridge.
We have many more guides in our Blog